Torqeedo Travel
The revolutionary boat drive: ultra lightweight, ultra mobile, ultra strong.
What Morgan Marine has to say: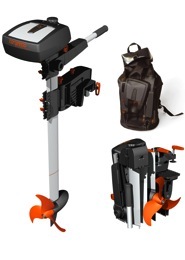 "The key to the success of these outboards and what separates them from other electric outboard technologies – is the new battery system. A true German innovation – there's nothing else like it at the moment. Combine this with quality high torque motors and you have a surprising combination of efficiency and performance."
The foldable Torqeedo outboards come with an integrated lithium-manganese high performance battery – Do not need an external battery connection.
No maintenance: no more winterisation!
Lightweight: 11.4Kg (short shaft version) including battery.
Foldable: comes in a waterproof travel pack.
Stowable: Dimensions of 310 x 320 x 450mm, they can easily be stowed away on board or at home.
The Torqeedo Travel motor into the perfect drive for small boats, dinghies, tenders, daysailors etc up to 1.5 tons of displacement.
Call us today on 01206 302003 for more information