Morgan Marine's brokerage experience, commitment and enthusiasm are your guarantee to selling your boat! 
New reduced commission pricing as of 1st November 2017!


Experience & Commitment
With over 40 years' successful brokerage experience we know what it takes to sell boats. Our dedicated team works continuously to get the highest value in the quickest time for your boat, whether it's a 14ft dinghy, a classic yacht or a 68ft superyacht! We can broker boats from £2,000 to £1,000,000…
With the recent addition of our new brokerage office off-site we can attract even more potential buyers as well as guaranteeing you dedicated staff concentrating solely on the brokerage side of the business. We are open 7 days a week including Bank holidays, so sellers and buyers can always get in touch.
Marketing & Results
Getting your boat in front of potential buyers takes a variety of routes. Our own newly designed website has had considerable time and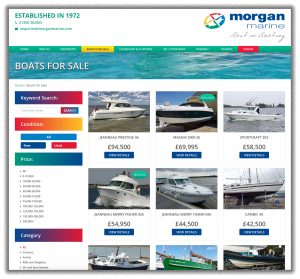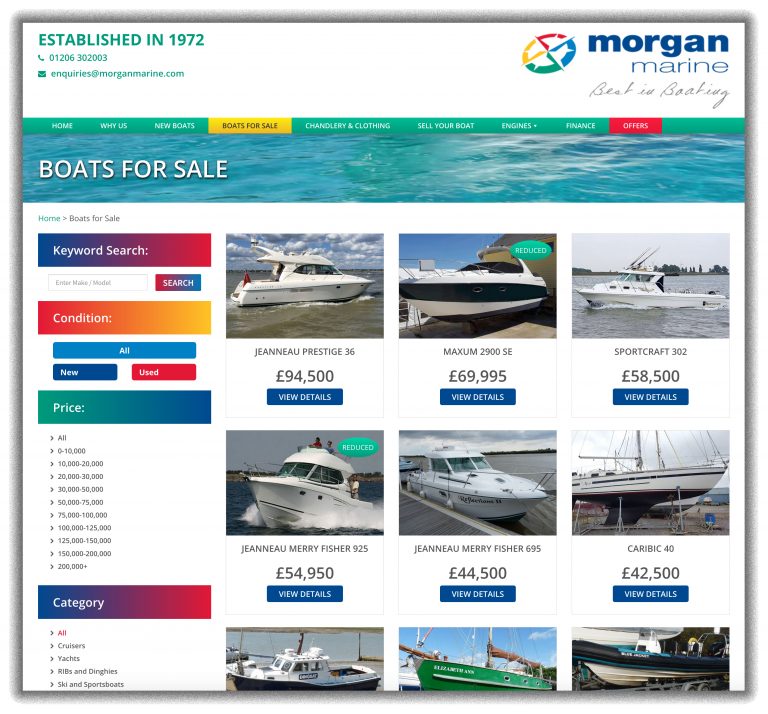 expense spent on it to ensure it appears very early on when people are searching Google for boats. Once on it, potential buyers tend stay on the site for a long period.
Unlike the majority of Brokers, we run our own fully functioning boatyard, so can also offer potential buyers everything from moorings, to workshop facilities, a well-stocked chandlery and our own private slipway. We can arrange for boats to be delivered to new owners by land or sea, using our own experienced team.
Of course, it takes much more than this to sell a boat. We use many other Boat sale sites, i.e:
boatshop24.com
boatshop24.co.uk
boatsandoutboards.co.uk
apolloduck.com
rightboat.com

yachtworld.com
theyachtmarket.com
Which combined give us approximately half a million boat views from across the UK and Europe per year…
Of course, we still use conventional advertising. It has fallen by the wayside in recent years to online, but is still relevant as not all customers like using computers!
Anglia Afloat
Boat Mart
Boat Trader
Motor Boat & Yachting?
Sports Boat & RIB
Lastly, we are very active on Social Media (Facebook, Twitter, etc) which can not only help with boat sales but just as importantly give confidence to buyers.
All this has lead us to achieve sales figures exceeding 200 boats a year and crucially at values our customers are very pleased with. We always achieve the best possible market value for you boat.

What we can offer you
A same-day response to all brokerage enquiries
All your concerns and questions listened to and clarified until you are 100% clear of the process:
We create the detailed description of your boat and obtain full specifications
We can take all photographs
Your boats detailed 'Sale information sheet' created in-house and available within 24 hours
Your boat details matched to our database of previous enquiries and contacts
Within 48 hours your boat will be live on our website and all our partner sites shown above.
Emailed to private database shortly afterwards.
Magazine advertising within one month
A very fair commission structure, which starts off with a minimum charge of just £500 plus vat, from there:
Up to £30,000 sale value we charge 10% plus vat
From £31,000 to £80,000 sale value we charge 8% plus vat
From £80,000 onwards we charge just 6% plus vat
We offer all customers 3 months free storage in our boatyard (sole agency).
We never stop until your boat is sold.
No additional listing fees. Once your boat has sold you simply pay commission only, plus vat.
We handle all negotiations and take care of all the paperwork. We only require your verbal approval and a signature.
We handle all funds transfers. You take no risk of being scammed by buyers and we can release your boat sale funds to you by bank transfer

Shall we get started?
Contact our brokerage department or complete the form below:
Phone: 01206 302 003
Email: sales@morganmarine.com