Mariner is one of the most recognised and established brands on the world market today. You have probably seen them used by the RNLI as part of their rescue setup.
Produced by the Brunswick corporation in the United States, who have been making outboards since time in memorial and ever since a bright young man Mr Keifhafer had the idea of adapting a  chainsaw engine and attaching it to a tin bath!
What this means is that when you are buying a Mariner outboard, you are buying expertise that guarantees it will do the job you want; safely and reliably at sensible prices, which emerge from the latest production setups.  The Mariner brand protects your investment.
Prices are very attractive. Mariner comprises a range of 126 DIFFERENT MODELS!  varying in horse power, length of shaft and other upgrades. From 2.5HP through to 300HP and now the amazing Verado electronically managed, supercharged larger engines.
We have been Mariner dealers for the last 20 years. We run a very fast and reliable parts and service/repair department. Please be sure to ring outboard sales in 01206 302003 or 303519 for Andy Pearce for genuine Quicksilver parts, acessories & service. Don't forget, Mariner offer 2 years standard warranty for all models for recreational use and 3 years on the Verado and Optimax models.
---

"Clean running and extra mean on fuel, smooth and ultra-quiet, the Mariner four strokes offer you the ultimate in boating pleasure"
Outstanding fuel economy means lower operating costs and all Mariner four-strokes provide you with smooth, quiet power to take you there and back in affordable comfort and style.
The new mid-range Mariner four-stroke EFIs bring you to the same smooth, quiet, clean performance of other Mariner four-strokes, but by adding in electronic fuel injection, traditional horsepower limitations have been shattered.  These latest Mariners are highly efficient out-performers and are SmartCraft enabled.

Mariner four-strokes equate to savings of up to 39%, better than comparable two-strokes.  Their clean, smoke-free operation at all engine speeds, already surpasses EPA 2006 emission standards.  The technology allows wisper quiet performance.  Full cowls, an air intake silencer and through prop exhaust are further low-noise features.  Overhead cam design makes possible idling speeds as low as 750 rpm, making Mariner four-strokes ideal for fishing boat applications.  And there is no mixing of petrol and oil.  You'll enjoy the Mariner four-strokes experience.  You can rely on it.
---

"When you think big power, think big economy, think environmental friendliness, you just have to be thinking Mariner OptiMax"
Mariner OptiMax outboards have changed all the rules.  They've changed the way people go boating.  OptiMax is proving to be one of the most fuel efficient and thoroughly engineered marine engines of all time.  Smoke free, quiet, incredibly smooth and with outstanding acceleration and top speed.
Need more?  Then there's massive savings on fuel, an average 45% compared to traditional two-stroke outboards.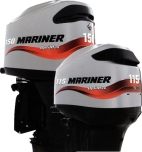 A new technology, direct injection fuel system has provided a way to burn the petrol more completely than ever before, resulting in these outstanding economies and emission reductions.  An electronic brain constantly adjusts the engine to meet changing conditions and maintain peak performance at all times.  A data link between the engine and SmartCraft boat control and instrumentation system gives you a wealth of information and help, for added peace of mind.
---
You can go further, get there faster and stay out longer with OptiMax.  It's smarter in every way.
Prices and specifications may change witout notice.  E & OE.