Marina and Boatyards
Situated across ten acres, Morgan Marine can offer a wide variety of marina and boat yard services to new and existing customers.
We have everything from:
Walk on serviced pontoons
Mud berths
Hard yard standing
Park & Ride service
Private slipway
Moorings on South Channel Trots
Crane & Hoist facilities
CCTV and security patrolled

All the above are offered 7 days a week within secure, well-lit yards (excl. South Channel Trots) and ample free parking on a quality concreted access road. All customers and visitors have the use of a private washroom and shower block. The master access road is newly concreted and the main gate locked every night for security but with access still available to customers who may need to get to their boats. We have a chandlery & marine clothing store on sight which is open 7 days a week offering everything you would need to work on your boat – from anti-foul to rigging and even tea and biscuits,
We have a policy of allowing other professional marine companies on site to work on your boats in our Marina and boat yards – however we have extensive workshops with four skilled engineers on site. All third parties must sign in daily and pay a small charge.
Please note electricity is available in all yards and pontoons but only via an electricity meter which can be obtained in the Chandlery with a £100 deposit (refundable).
Boatyard & Marina Services – 2023 prices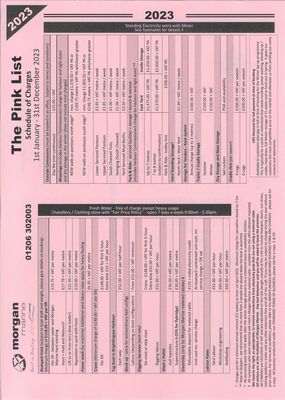 Park & Ride – Boat Launching & Retrieval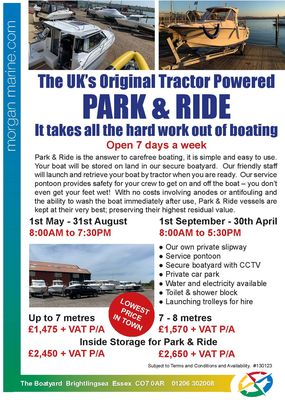 Boatyard Services – Price Calculator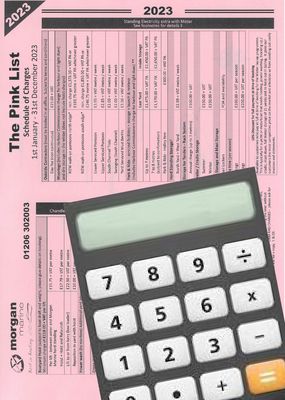 East yard Walk-On Pontoons
These have the new, safer style 2.5-metre-wide pontoons, with power and water points for each berth. They also have night time safety lighting and are security patrolled with CCTV coverage. The outer moorings offer 10.5 hours afloat out of 12, with the inside pontoon four hours. Boats rest on very soft mud which suits most hulls. You will need to call for availability and pricing as they are our most popular pontoons with boaters enjoying unspoilt views and great sunsets.
South yard Walk-On Pontoons
These are older style floating concrete pontoons, more cost effective than East yard pontoons, but still with power and water points. Boats here float for up to 7 hours out of 12 and still with great views and sunsets. Call for availability and pricing.

Mud Berths
Access by fully serviced pontoons, or the quayside. Suits larger boats. Floats 4 out of 12 hours. Call for availability and pricing.
South Channel Trots
When you need to get away from everything! Great wildlife with stunning sunsets in traditional fore & aft moorings on the other side of Cindery Island from Morgan Marine. You must have you own dinghy to get to shore (we provide dinghy racks near our private slipway) or use the local water taxi. Budget pricing for being afloat 11 hours out of 12. Full use of all our shore side facilities included. Call for availability and pricing.
Hard standing
Up to five acres of boat storage yards, with power and water points. All covered in a high-quality Type 1 grey stone which keeps yards dry, stable and is very hardy. All yards are locked every night with their own robust gates leaving just personnel doors for access. Just as all the boat owners on pontoons you get full access to the shower and toilet block, free parking and are never more than a 30 second walk to our well stocked chandlery. Morgan Marine also have a policy of allowing all external boat contractors access to work on customer boats on the proviso that they do sign in the contractor visitor's book in the main office and there is a nominal fee to pay. Please note contractors may use power points but only if they purchase and electricity meter in the Chandlery which require a £100 deposit (refundable). Please do ask us a for a comparison quote though as we have qualified marine engineers in our own workshop who can provide anything from a simple service to complete fit-out or restoration. Ask for Steve Morgan for a quote on any boat works.
Park & Ride (Boat launching & Retrieval)
Store your boat in our boatyard and we launch and retrieve you by tractor from our private slipway when you want.
Up to 7 metres – £1,475 + VAT P/A
7 – 8 metres – £1,570 + VAT P/A
Inside storage available – please contact us for more information:
Up to 7 metres – £2,450 + VAT P/A
7 – 8 metres – £2,650 + VAT P/A
Find out more about our Park & Ride service.
Hoist
We have one of the market leading boat hoists from Wise available to lift boats in or out using our private slipway. We can handle up to 30 tones and 45 feet in length. A 'lift & powerwash' is one of our specialities and always very popular. Our yard foreman is extremely skilled with the operation of getting boats into the hoist slings safely and without drama. Using the hoist with our service pontoon is also a very safe and secure way for owners to embark or disembark. We have available for hire some 70 cradles for boat storage, depending on hull.

Crane and Rigging service
Our 65ft boom length crane is rigged for engine and mast removal and we have many years' experience in both. We can also offer a competitive quote for our reliable rigging service using Craig Bond – a well-known and expert local rigger.

Winterisation programme
If your boat is already in our marina and boatyards, or you are thinking of bring it in during the winter months, you should really consider commissioning Morgan Marine to carry out a winterization programme. It is a vital part piece of servicing to maintain your valuable engine through the harshest months. Prevention of catastrophic damage caused by freezing is essential. Morgan Marine offer a full winterisation programme to 'close down' your boat and machinery, and then get everything up and running again for you in the spring. Done correctly it keeps everything in good an order. Please call Steve Morgan on 01206 302003 for full details and an agenda to suit you.
Antifoul and valeting service
Please call for a competitive quote on antifouling your hull or valeting your boat. Our workshop team undertake any work of this type to a high standard at competitive rates.
Yacht refurbishment and fit-out service
While your yacht is in our care why not get a quote for refurbishment work? We have a long history of all types of work – replacing inboard and outboard engines, bow thrusters, stern thrusters, winches, trim tabs or Radar, Fishfinders, GPS, autopilots and music systems. Please call for a quote.

Colne Marina
Our Colne Marina development plans to extend the current marina facilities at Morgan Marine to include additional moorings; with the existing moorings being re-formatted and improved. It will boost tourism and trade for local businesses and bring new recycling facilities plus environmental benefits. Find out more on our Colne Marina page.