Posted on: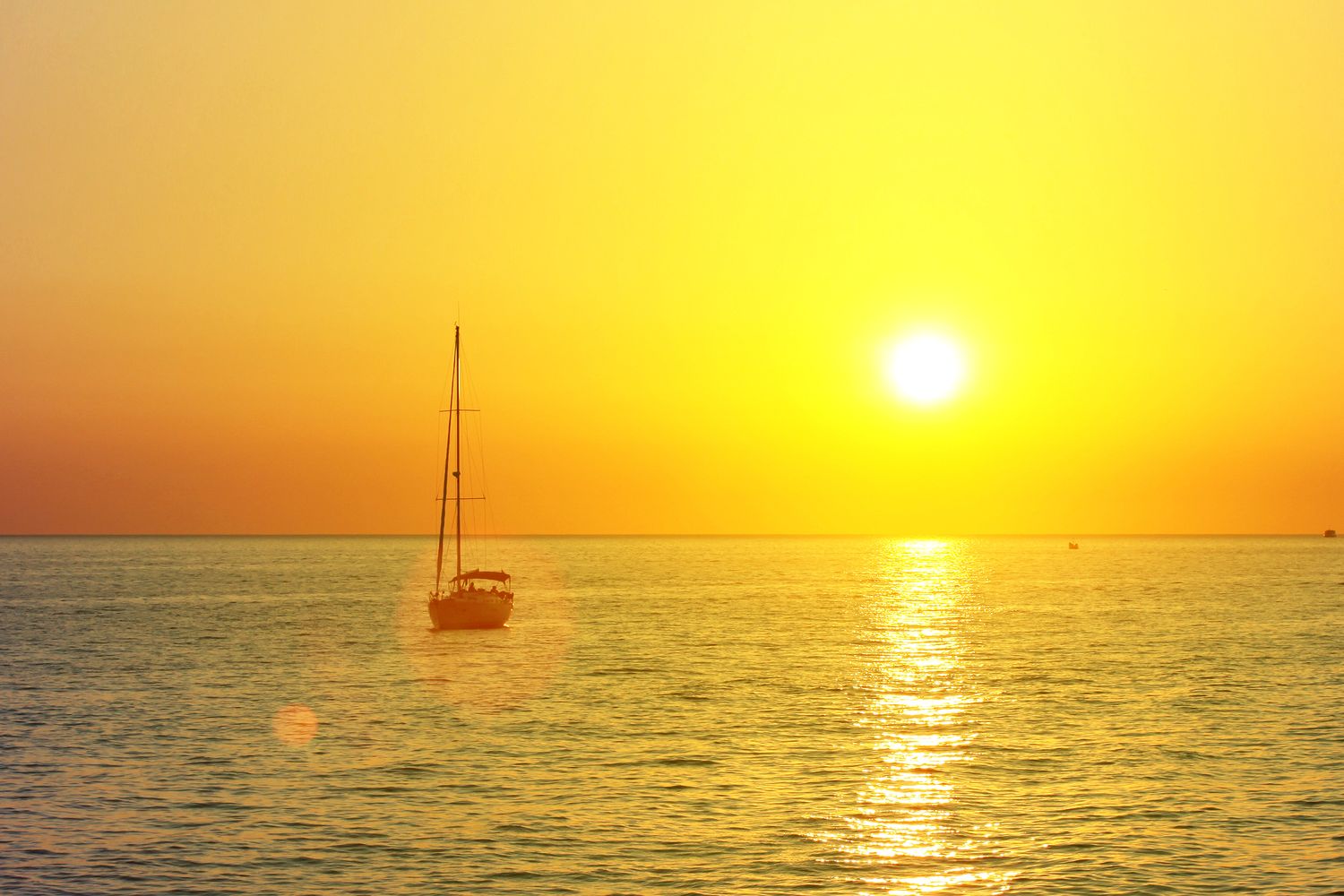 Brightlingsea the place to be!
If you are wondering whether to pay Morgan Marine a visit, for viewing any of our new boats or used boats, or for moorings / yard storage, take a look at the bigger picture – and our great location in the waterside town of Brightlingsea in Essex. Make a weekend of it – or longer!
The early years
Brightlingsea's history stretches back to possibly as far as 3,100 to 4,000 BC when an Early Neolithic pot was found in a D-shaped enclosure in a local farm.
Slightly later, Brightlingsea (or Brictesceseia as it was originally known) has a mention in the Domesday Book of 1087. The population was given as 24 villagers, 26 smallholders and 5 slaves. The lord of the manor had been King Harold Godwinson, yes, the same Harold who was killed at the Battle of Hastings, in 1066, fighting the Norman invaders led by William the Conqueror during the Norman conquest of England. The title then passed to King William I.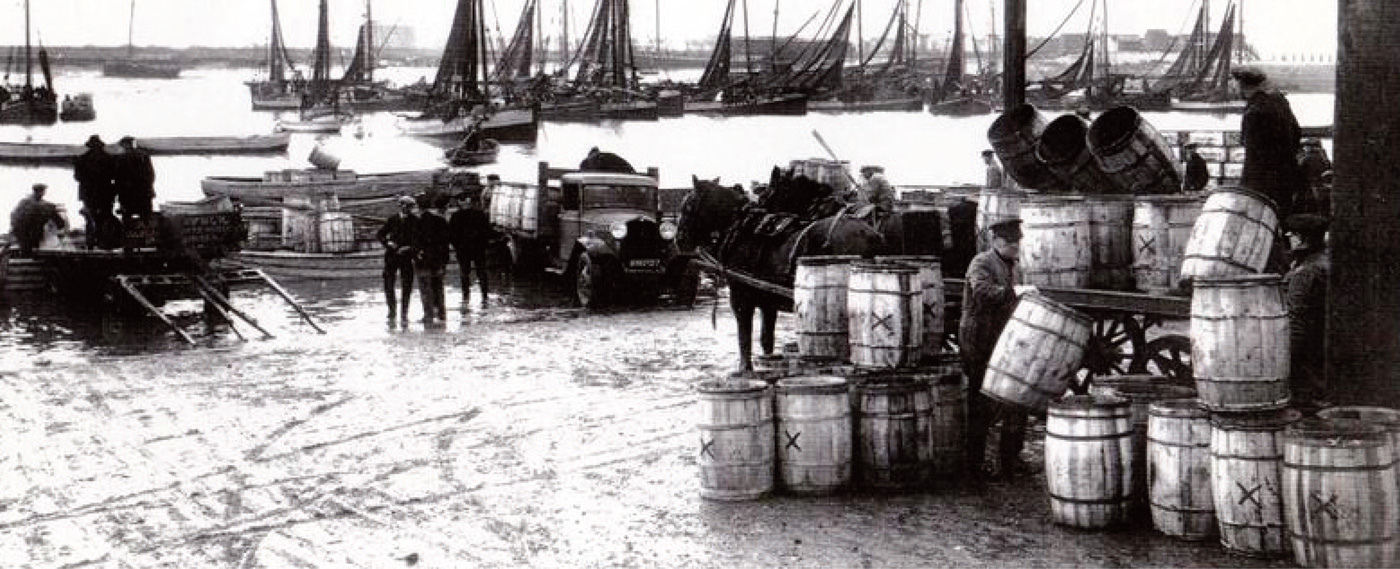 The medieval town grew up around two centres, firstly around the parish church and secondly close to the shore where a port had developed. Trade was in oysters, fish, copperas (a locally found green pigment made of iron sulphate) – see link: https://morganmarine.com/news-events/copperas-a-small-bit-of-history and locally made bricks.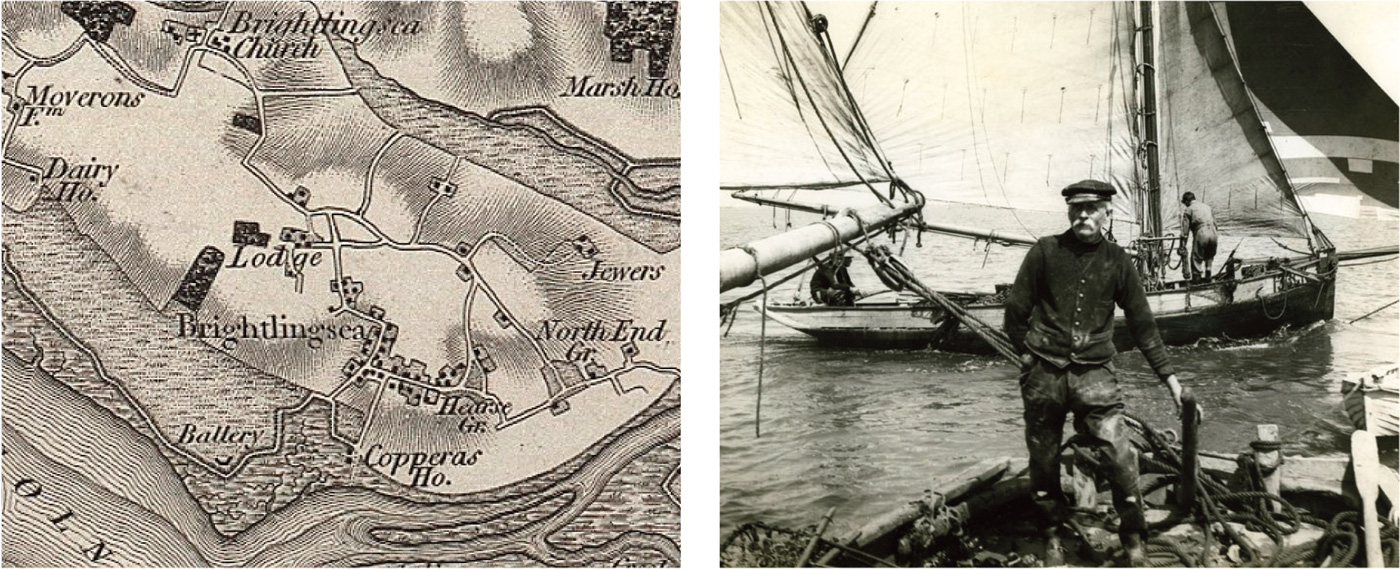 Location
Brightlingsea is a coastal town within the Tendring district of Essex, England, situated between Colchester and Clacton-on-Sea, situated at the mouth of the the River Colne, on Brightlingsea Creek. By road it is just Sixty minutes from the outskirts of London and 45 minutes from the M25.
Chelmsford is just a 30-minute hop down the A12 and 15 mins brings you to us from Colchester or Clacton.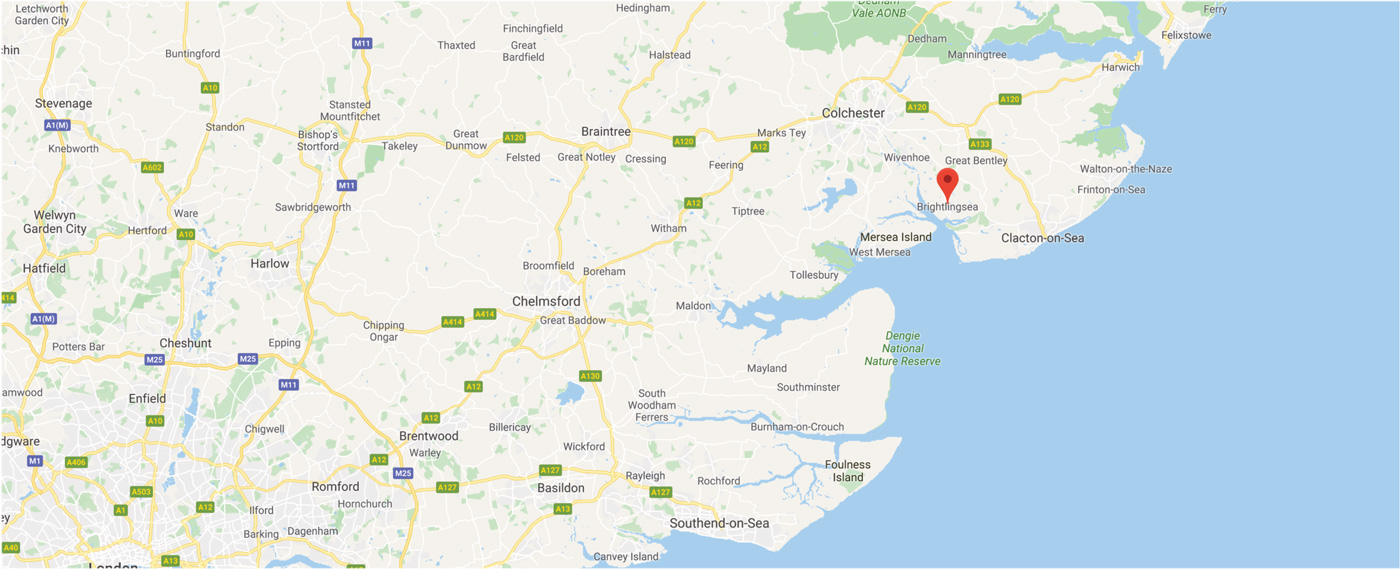 Being almost totally surrounded by the Colne Estuary, Brightlingsea Creek & salt marsh, Brightlingsea's road links are unusually limited for a town of its size, with only one road linking the town with the outside. During the North Sea Flood of 1953, Brightlingsea was cut off from the outside, though the town itself was not as severely affected as some neighbouring communities.
Industry
Brightlingsea has had many industries boom and bust over the centuries – including oyster fishing and shipbuilding. The advent of the railways altered trade patterns and introduced tourism. Brightlingsea obtained a branch line from Wivenhoe in 1866, which supplied two daily services from the 1870's.  The branch line carried oysters, fish and day trippers, and enabled massive numbers of sprats to be exported by train / ferry from Harwich to Eastern Europe – it was often referred to as the Crab & Winkle line!  The line was always susceptible to flooding, and three miles were lost in the storm of January 1953.  The town's population of 2,585 in 1861 climbed to 4,501 by 1901.  The branch closed in 1964, supposedly prompted by the high maintenance costs of the swing bridge over Alresford Creek, which was necessary to allow boat traffic to the many sand and gravel pits in the area.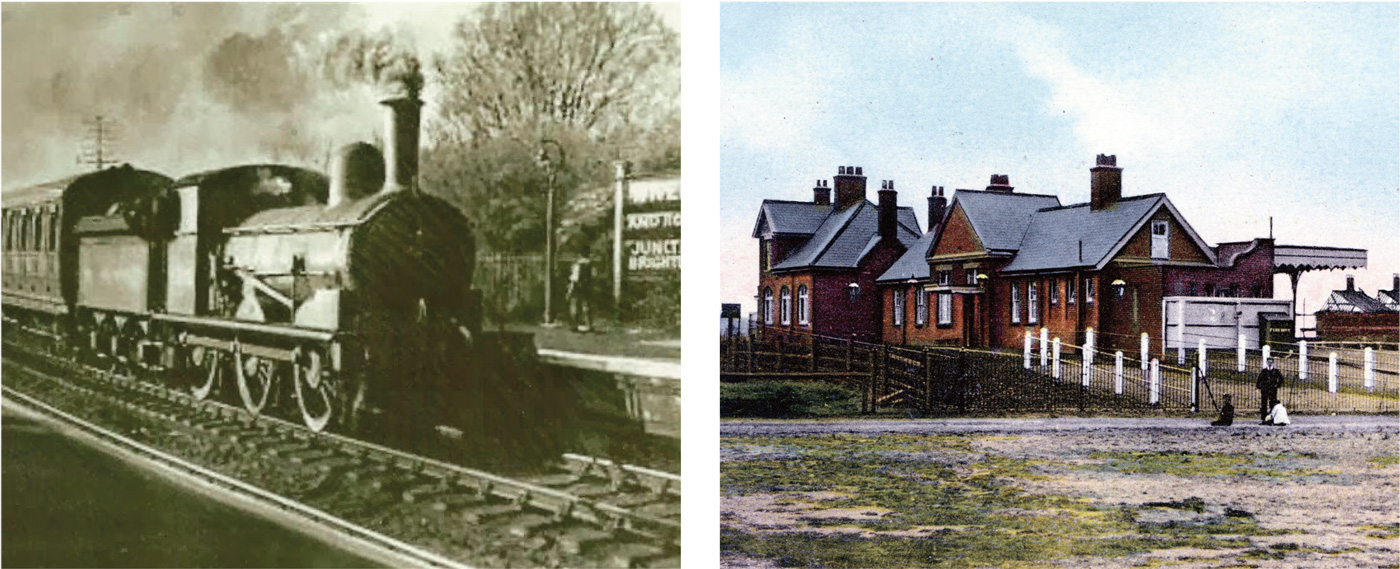 The town is now partly a dormitory town for Colchester as well as a popular holiday destination due to good beaches, an award winning open air Lido as well as a tidal seawater paddling pool designed to keep children safe whilst playing in the sea. There are numerous beach huts along the promenade and beside the paddling pool – all well utilised during the summer months, confirming Brightlingsea as a great family destination in the summer.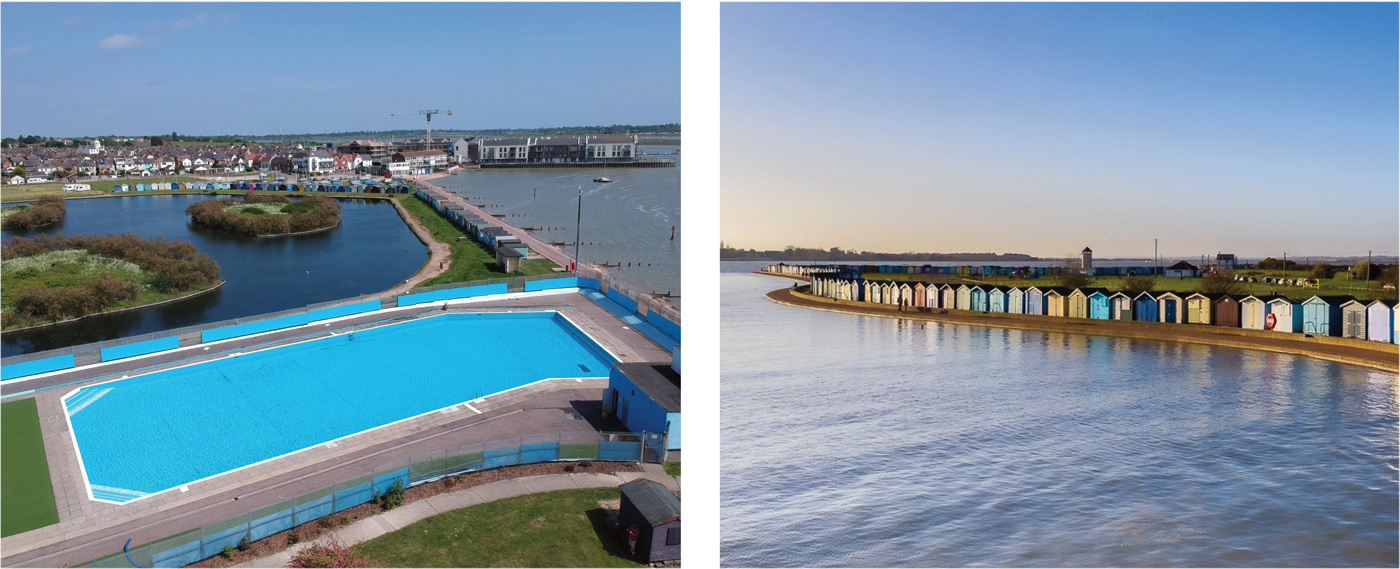 Brightlingsea has always proved popular with sailors, with many sailing clubs in and around the area and great sailing / cruising to be had along the East Coast as well as exploring local creeks and rivers.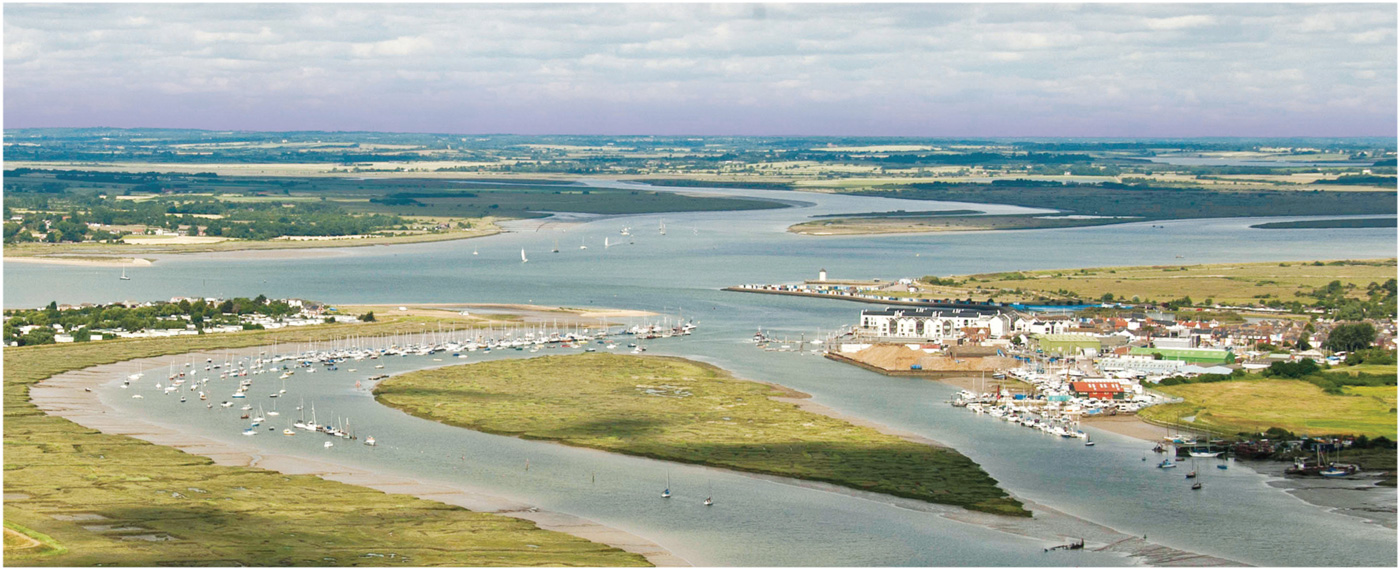 Brightlingsea Sailing Club runs a competitive sailing programme, and has produced many champions at international and Olympic level. The Colne Yacht Club is one of the oldest established clubs on the East Coast, with its origins stretching back to the 1870s.
Cinque ports
Brightlingsea, is a Limb of the Head Port of Sandwich, and the only community outside Kent and Sussex which has any connection with the Confederation of the Cinque Ports. As a thriving ship-owning port, in becoming a Limb of Sandwich it could contribute to that town's ship-service quota. To the Portsmen generally it was a useful half-way house en route to and from their annual Herring Fair at Yarmouth. For the Lord Warden, it made sense of the extending of his powers so far north of Sussex and Kent over the full width of the mouth of the Thames. Also, it produced excellent oysters and the Lord Warden had his own official layings in Brightlingsea Creek until at least the 1670's.
During the 22 years of war against revolutionary France, the Sandwich link was stretched more than a little thin…. In 1811, an Act of Parliament ended it. For local government and militia purposes, Brightlingsea became part of the Tendring Hundred of Essex, but as far as the Lord Warden was concerned, it remained part of his jurisdiction. The Cinque Port Wreck House built at that time still stands in Brightlingsea Waterside, a unique survival and as late as 1848, the Cinque Port Agent was active in the Colne.
In present times, this title is still honoured in a once yearly event. With various dignitaries and locals in attendance.
Interesting history
Brightlingsea has always had a reputation for producing some of the best sailors. Fishermen in fact used to be in great demand to crew racing yachts from the 1880's right through to the 1930's. 'Yachting' provided an income during the summer to supplement the winter fishing. Many top skippers in fact earned enough through their winnings to have boats built…. The fast fishing smack Maria being a good example: https://morganmarine.com/news-events/morgan-marine-boatyards-full-of-history/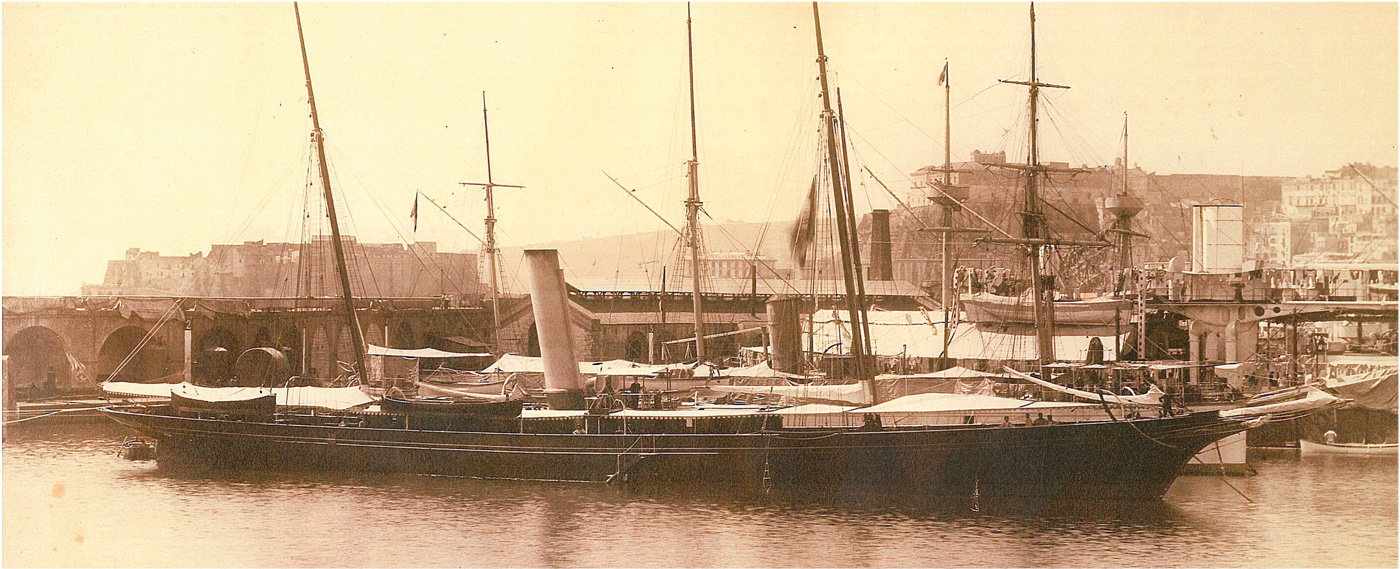 The wealthy boat owners dealt with Aldous's Shipyard, which was also the largest builder of fishing smacks on the East Coast and did important work for all three armed forces in both world wars. The wealthy patrons included Lipton of the Americas Cup, authors WW Jacobs and Arnold Bennett, the musician Sullivan's heir and nephew Arthur, and most famously the eccentric, reclusive, yet generous American millionaire Bayard Brown, whose yacht Valfreya lay in the Colne for almost 30 years. The large and expensive racing yachts, with Brightlingsea skippers and crew, could be seen at many regattas around the coast of Britain and Europe during the summer and in winter, could often be found laid up in mud berths along the creek where Morgan Marine (and one of the original sail loft storage buildings) still stands.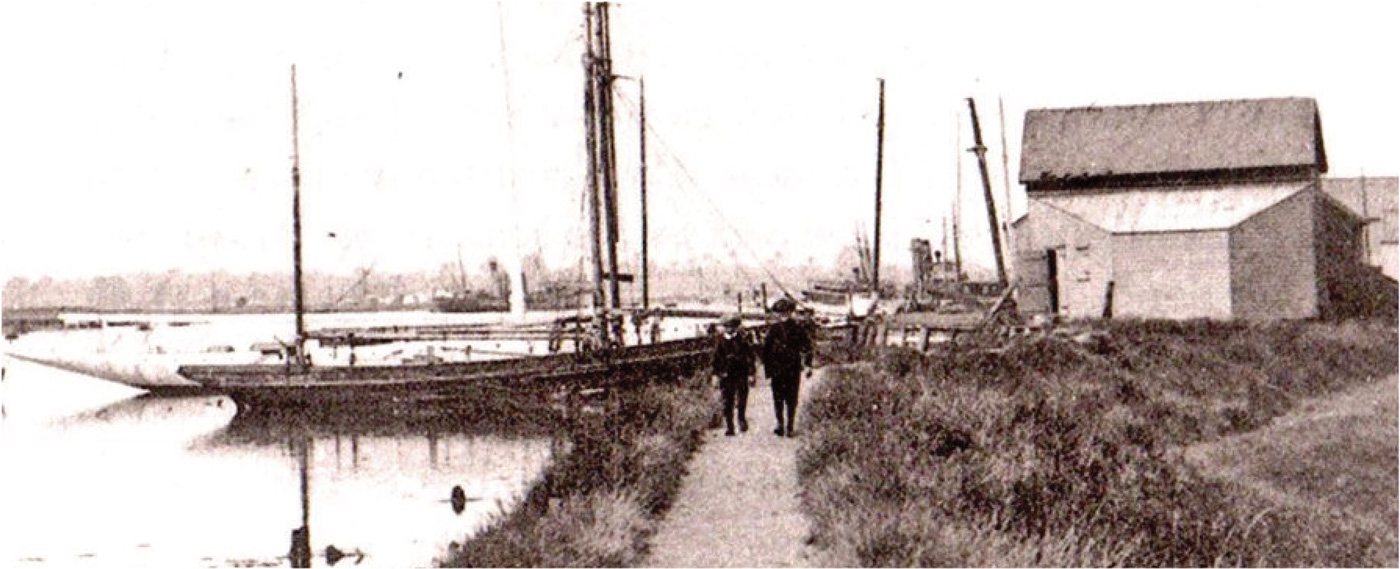 The Mignonette. In 1867, the yacht Mignonette was built by Aldhous Successors in Brightlingsea. The Marionette foundered on its way to Australia in 1884. In desperation, three of the four shipwrecked crew killed and ate the sickest member, the seventeen-year-old cabin boy named Richard Parker. The subsequent trial, R. v. Dudley and Stephens, established the common-law principle that necessity is not a valid defence against a charge of murder.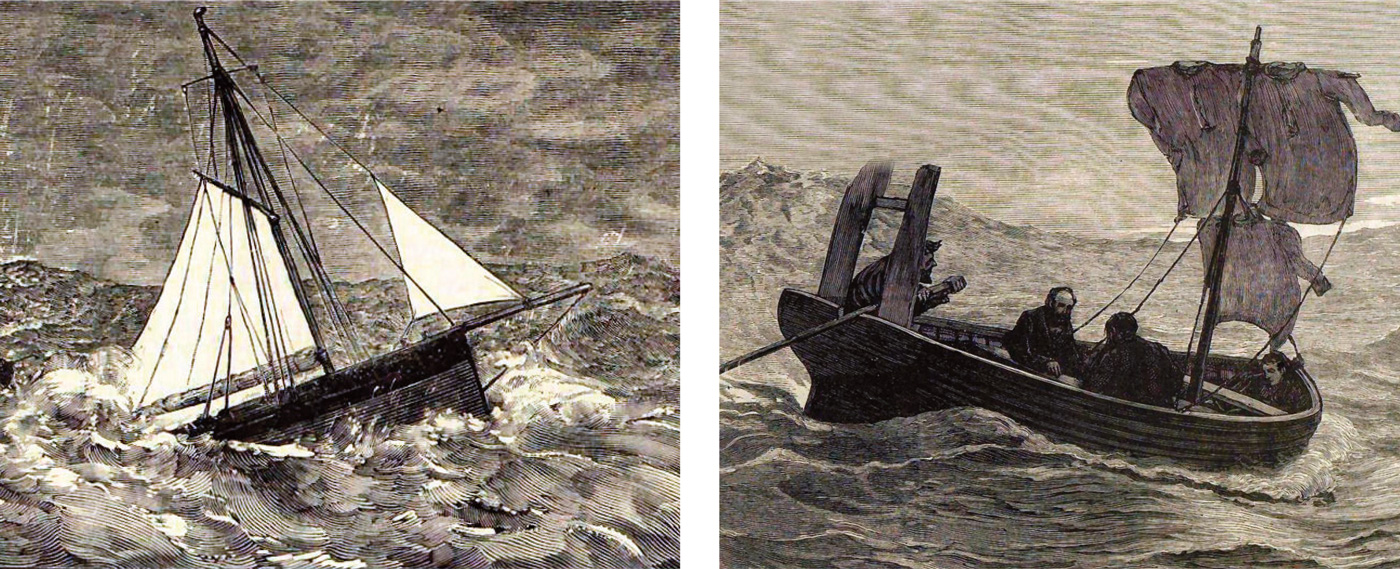 1914-1918 During the First World War the Royal Navy was based at Brightlingsea, calling its base HMS Wallaroo and then HMS City of Perth. It installed and guarded and maintained the booms and nets of the Swin Anchorage, which was periodically used by a squadron of battleships (including HMS Dreadnought), and was the Launchpad for the raid on Zeebrugge and Ostend in 1918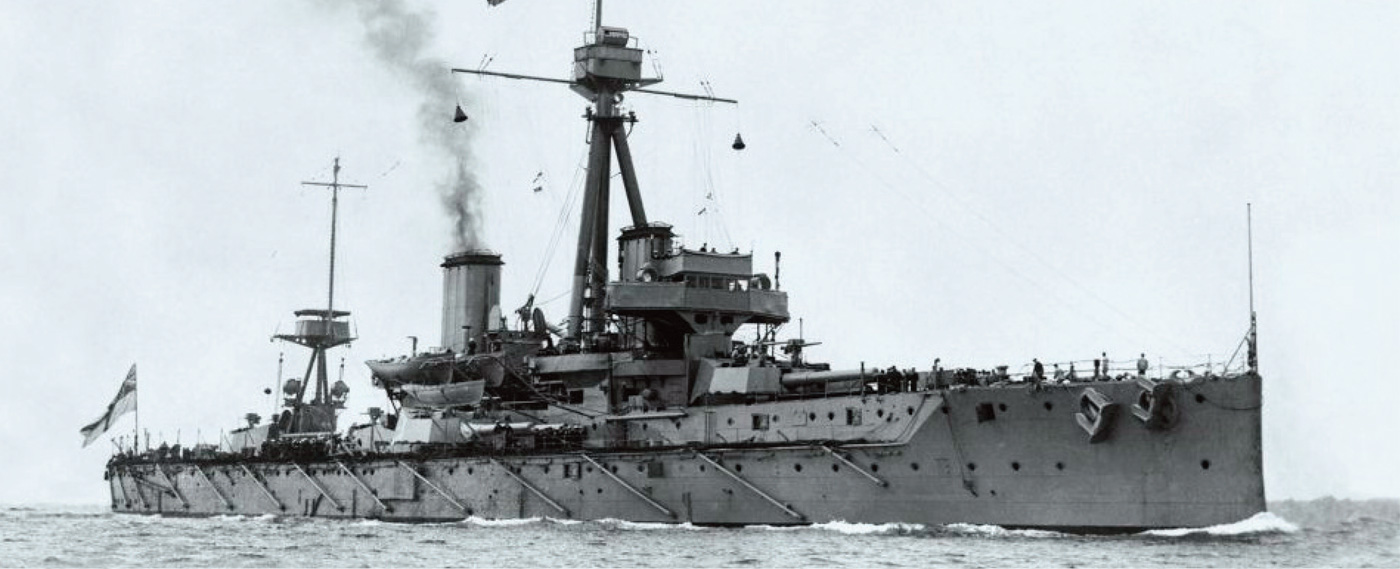 1939-1945 Brightlingsea played a significant part in the early sea war, when it was the base for small experimental magnetic minesweepers and for a mine recovery party.
'The Battle of Brightlingsea'
In 1984 Brightlingsea Wharf was used to import coal during the Miners' Strike, and up to a dozen ships could be seen out in the river waiting to unload at Wivenhoe. Kent miners came to picket and some were detained by Essex Police.
'The Battle of Brightlingsea' – take two!
Brightlingsea port came to national prominence again in the 1990s with an attempt to use the port again for a controversial cargo. Dubbed the "Battle of Brightlingsea" it comprised a series of protests against the live export of animals from the town for slaughter in mainland Europe.
Reginald White (& John Osborn)
One of Britain's best-known sailors, Reg White, dominated the world of catamarans for three decades. He won the Little America's Cup a record five times between 1963 and 1968 in C-Class catamarans and dominated the Olympic Tornado class for two decades, winning the gold medal for Britain with John Osborn at the 1976 Games in Canada.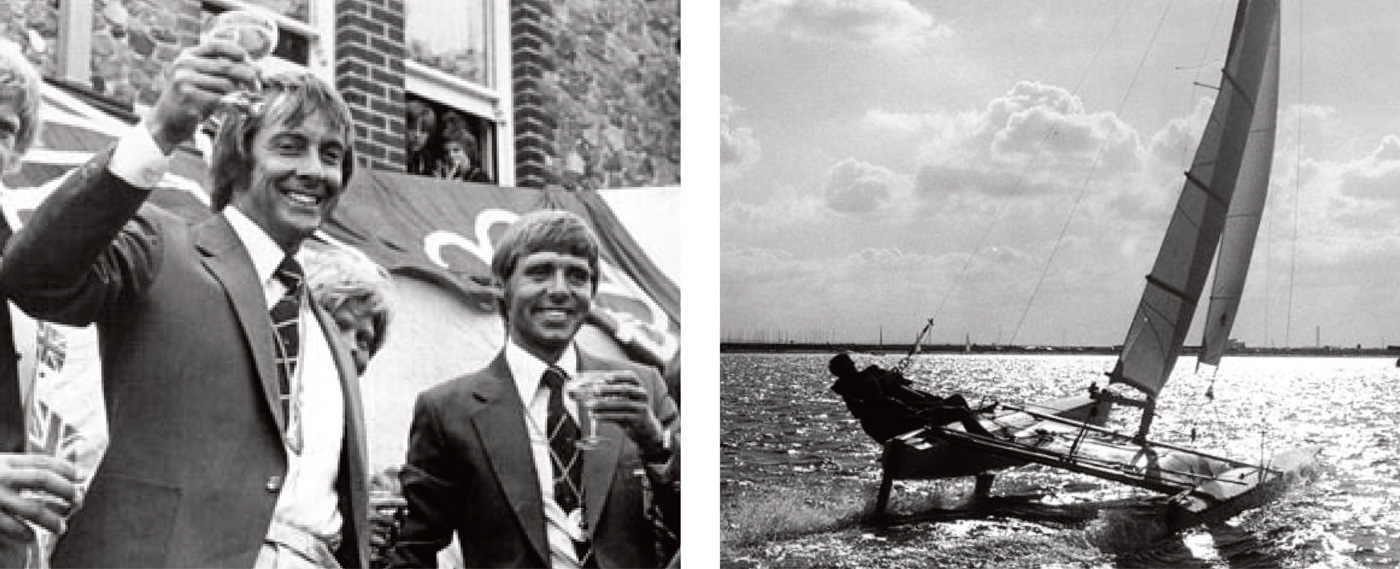 White, who also won the Tornado world championship in 1976 and 1979, was deprived of the chance of a second Olympic medal after winning the selection trials for the 1980 Games in Moscow when the British sailing team withdrew in protest at the Soviet invasion of Afghanistan.
Both hail from Brightlingsea and were awarded MBEs in 1997 and have a statue in their honour down by the hard.
Places to see or visit
All Saints Church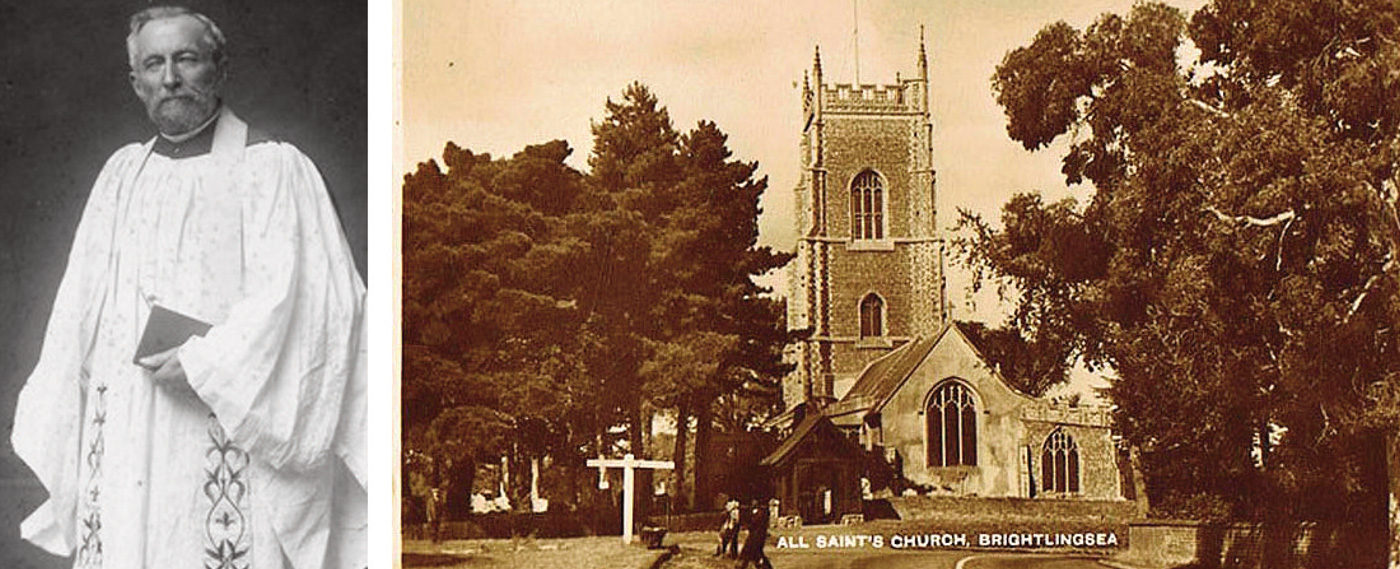 A fascinating church, parts of which date pre- 13thcentury and situated just outside the town contains unique memorials to parishioners who have lost their lives at sea. Initiated by the Reverend Pertwee, who served as the vicar for 50 years, from 1872-1912, was also known to climb to the top of the tower and raise a light on the flagstaff to guide the fishing fleet safely home in a storm. There are now 213 memorial tiles, to be exact. Each tile placed in a frieze which runs around the nave wall. See the link in our own news section for a more detailed story. https://morganmarine.com/news-events/brightlingsea-church-honouring-sea-farers-two-centuries/
In addition, Brightlingsea Christmas Tree Festival is held at the church in the middle of December and has been a huge success growing from just fifty-seven trees in the first year to nearly a hundred trees today. Individuals, families, charities, churches, schools, shops, businesses, clubs and societies – all with links to Brightlingsea – bring trees to decorate in the church, some on a Christmas theme, some funny, some poignant and some to reflect a business, organisation or school. https://brightlingseachristmastreefestival.co.uk/about-the-festival/
At the end of the promenade you can find Batemans Tower. Built in 1883, John Bateman which he used as a folly for his daughter to recuperate from consumption; however it may have been intended as a lighthouse as part of a failed plan to expand the port. You might notice Bateman's Tower is leaning slightly; it is said that its foundations were laid on bundles of faggots!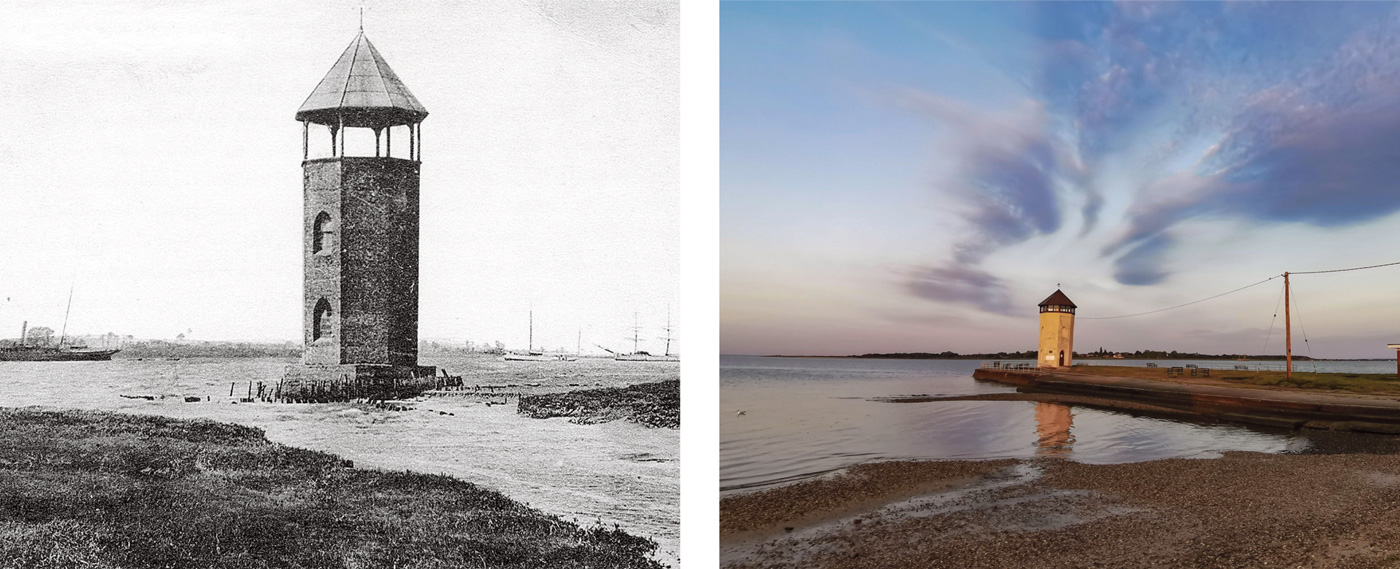 Near the centre of the town is Jacob's Hall, reputedly the oldest timber-framed building in England, built during the thirteenth century. Queen Mary once visited it in 1938.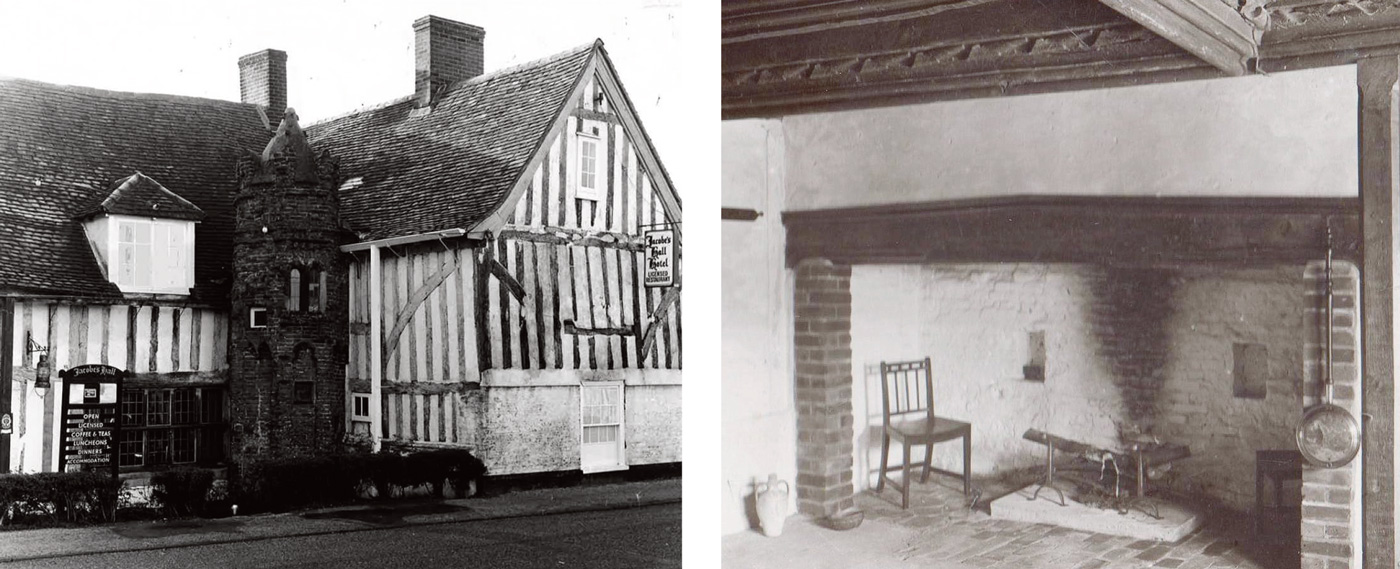 Pioneer Sailing Trust
Based at Harkers Yard, right next door to Morgan Marine, the Trust provides learning opportunities for young people to equip them with skills for life, both at sea and on land. Whether aboard the restored fishing smack Pioneer or ashore in Harkers Yard, they believe that every young person should have a fair start in life no matter their circumstance or background.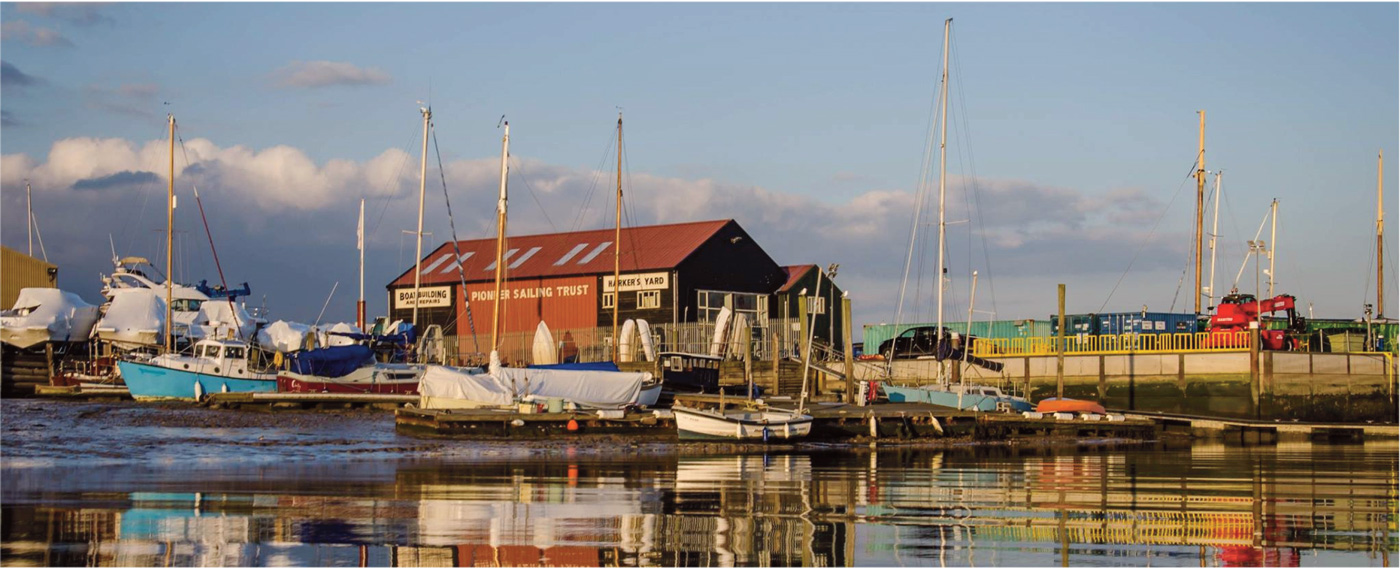 As seen from Morgan Marines West pontoons. The Trust was initially founded in 1999, with the ambition to restore a 70ft Essex Smack – Pioneer – which fell into decay after a life spent dredging oysters in the North Sea. Restored in 2005, the vessel forged a new life as a sail training boat, now an essential part of the Trust's wider mission to facilitate learning opportunities within young people, through maritime experiences.
The work undertaken at Harkers Yard is truly fascinating, using traditional methods and materials. http://www.pioneerck18.org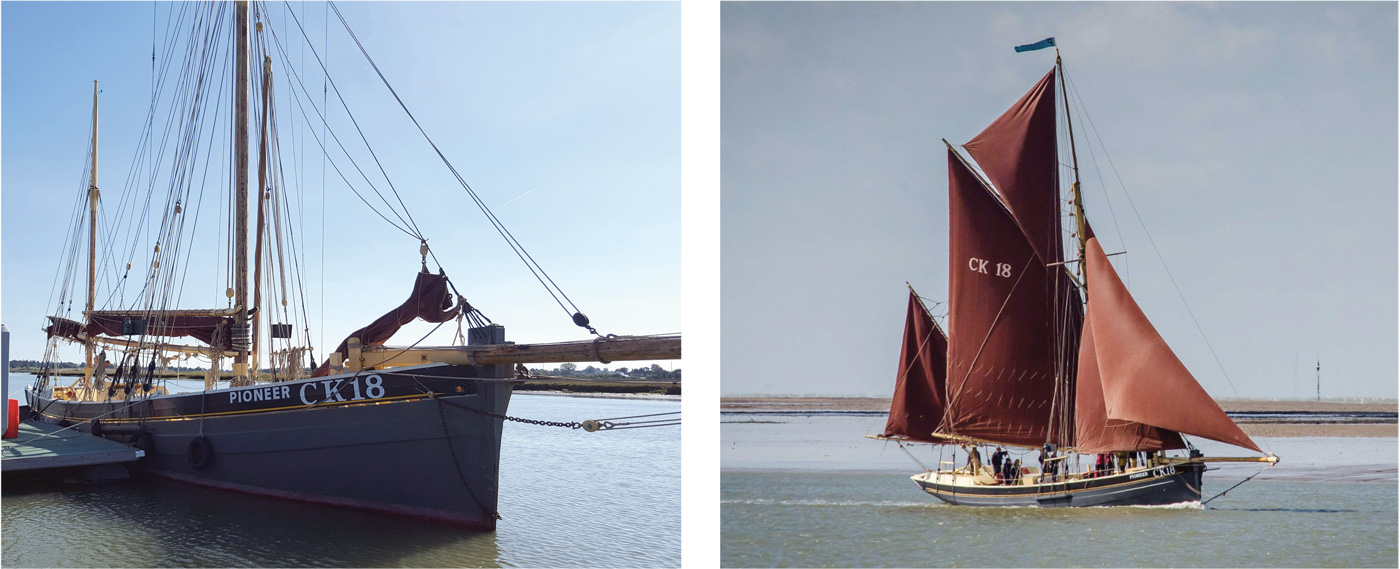 Waterside Marina Development
The Waterside Marina development is situated immediately to the south of the town centre and is close to the popular beach and adjacent to Brightlingsea Harbour. The marina can accommodate approximately 50 vessels and has recently undergone a significant dredging programme that will facilitate larger vessels to use the marina. In its early years, this massive residential waterside development with prestigious apartments overlooking the water, ran over budget and time scale having several management companies over the years but now finished, it plays a very positive role in keeping Brightlingsea on the map and attracting new residents to the town.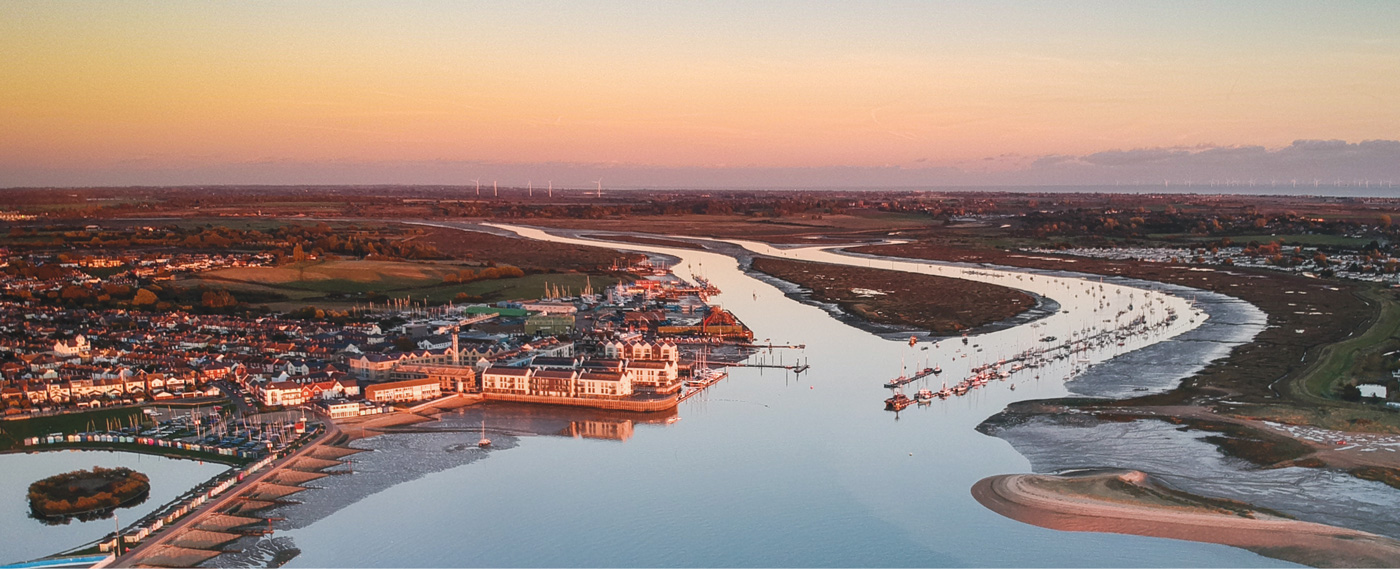 We have a decent High Street too – one of the few still existing in the country! There are numerous shops offering local produce, (including an independent butcher, baker and greengrocers) as well gifts, souvenirs, clothing, varied services and no less than eight pubs, all in walking distance of each other and all serving food. There are cafes, fish & chip shops, restaurants and wine bars as well.
Events
Brightlingsea Regatta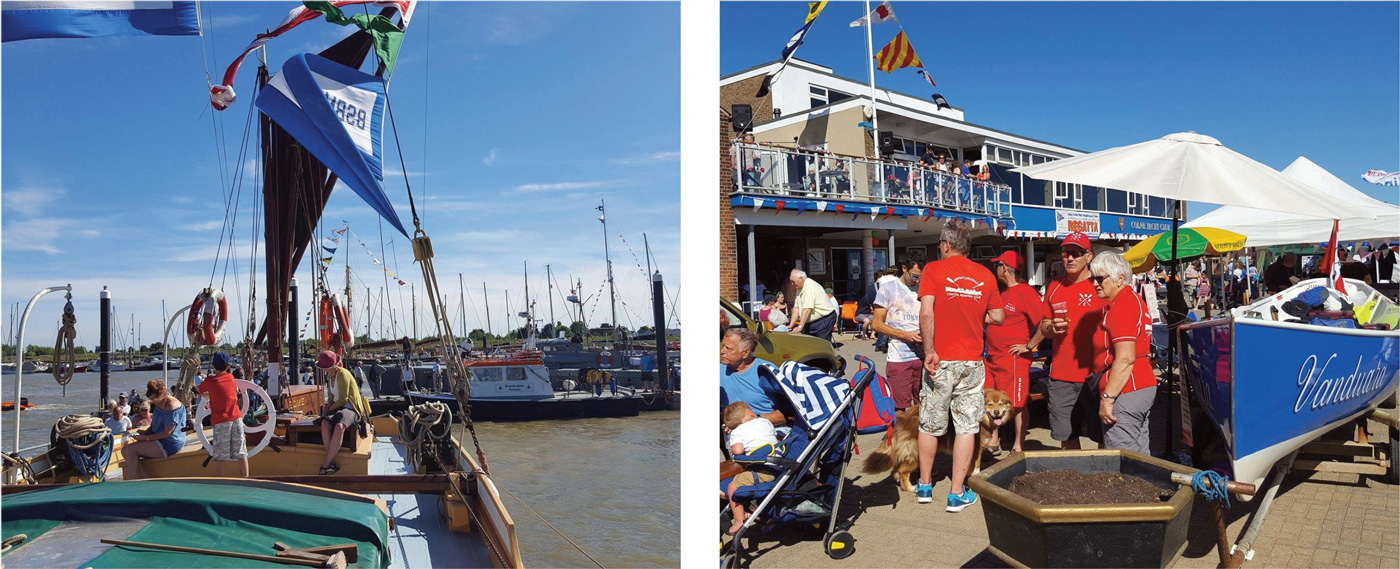 Brightlingsea Regatta is an annual event that brings many thousands of visitors to the town over the weekend of the event.
For 2020 the Regatta will take place on 4 and 5 July with events happening across all harbour and waterfront venues on both days and with a spectacular free Saturday night Firework Display, which will be visible from the Western Promenade, Brightlingsea Sailing Club, Waterside Marine viewing area, Point Clear, East Mersea and other harbour and estuary viewing points.
With a host of waterside and waterborne activities throughout both days there is plenty to entertain the entire family. Both Brightlingsea Sailing Club and the Colne Yacht Club will be offering opportunities to Try Sailing, with Brightlingsea Sailing Club also offering Try Powerboating sessions too, while Brightlingsea Coastal Rowing Club and the University Community Sailing Club will be offering the opportunity to Try Gig Rowing.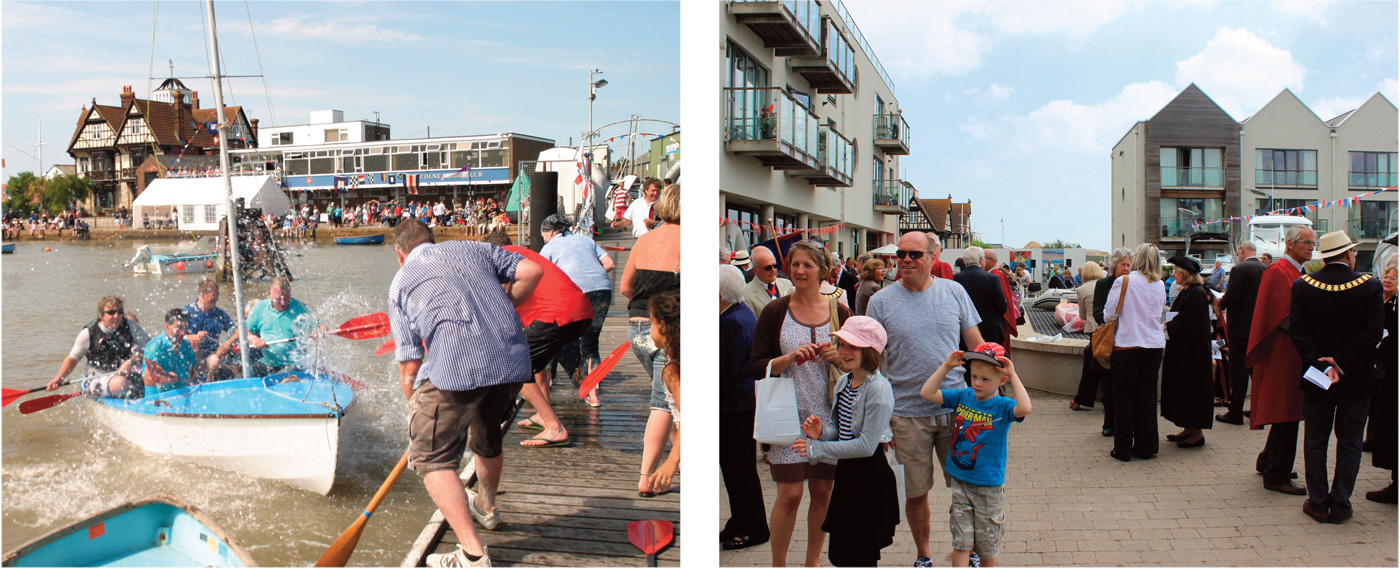 The spectacular St Helena Hospice 'Craft Your Raft Race will be held off the Western Promenade on Saturday, which will be open to teams from pubs, clubs, companies, organisations and groups of friends from throughout the region.
The Town Jetty will also be hosting a variety of interesting vessels which the public can visit and get on board – which always proves to be extremely popular.
All the clubs and the harbour area cafes and restaurants will be open to the public throughout the weekend, offering a wide range of food, drink and entertainment.
With stalls lining the streets and start of the promenade area, plus plenty of children's entertainments there truly is something for everyone.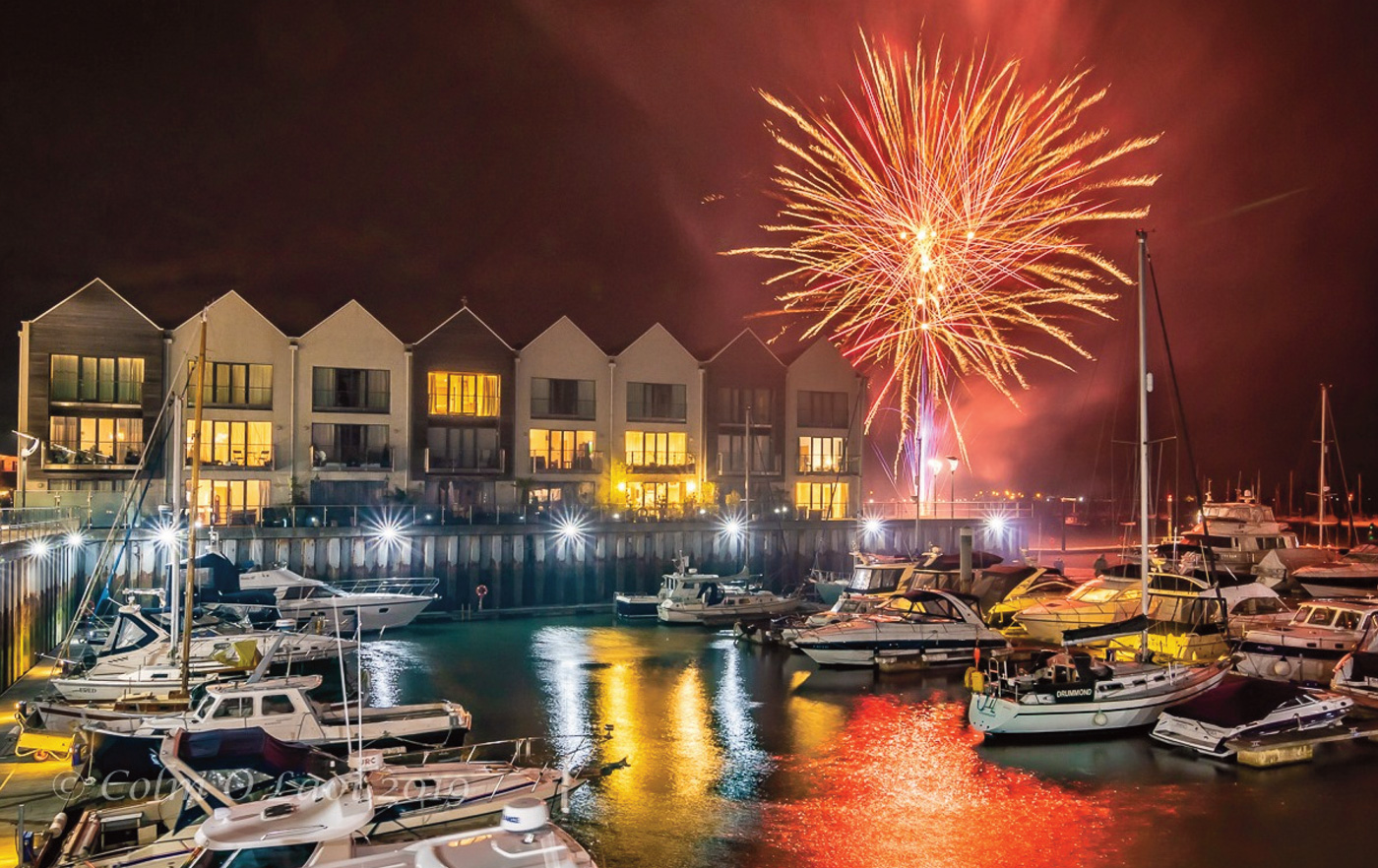 Morgan Marine Boat Show
Once a year Morgan Marine dedicates a whole weekend to providing entertainment, food and drinks, surrounded by a huge range of new and used boats, for its past and present customers (as well as a few potential new ones!). Generally, the Saturday is open house for all and sundry with Sunday being invitation only. Over the years, the format has varied. At one time the Morgan Marine Boat Show supported Brightlingsea Regatta- and may well do again at some point in the future. Take a look at this write up of our last event – 'Showboat'.
https://morganmarine.com/news-events/morgan-marine-showboat-weekender/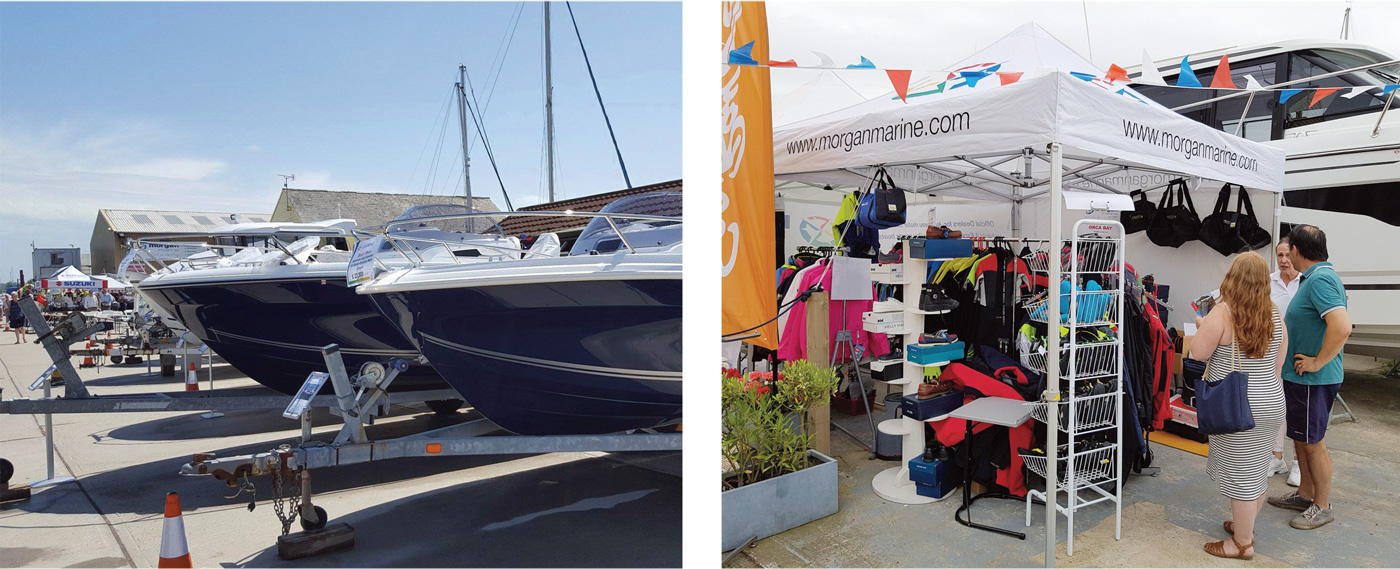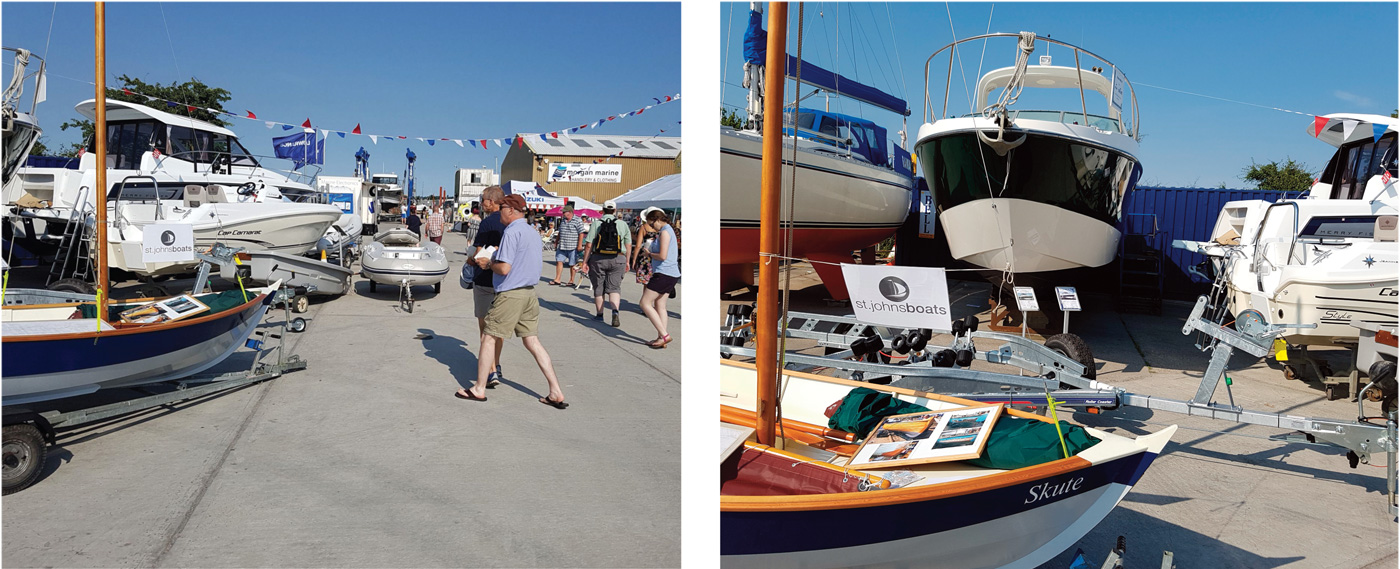 Brightlingsea Blessing and Reclaiming of the Waters
The Blessing of the Waters is a centuries old Brightlingsea tradition & takes place at the Town Hard & Jetty & on Brightlingsea Creek. It starts with a proclamation by the Town Crier on the steps of St James in the High Street, followed by a colourful robed procession of Brightlingsea's Cinque Port Deputy joined by Cinque Port mayors from Kent, Brightlingsea's mayor, local mayors, clergy, uniformed youth groups & others that follow the band down to the Harbour. (Brightlingsea is the only Cinque Port north of the Thames). When they reach the Town Hard, those in the procession & the assembled crowd are led in the Service of Blessing by the clergy. During the service the procession moves down the jetty to where the Blessing of the Waters of Brightlingsea Creek & boats takes place aboard on board the moored historic Skillinger oyster Smack "Pioneer".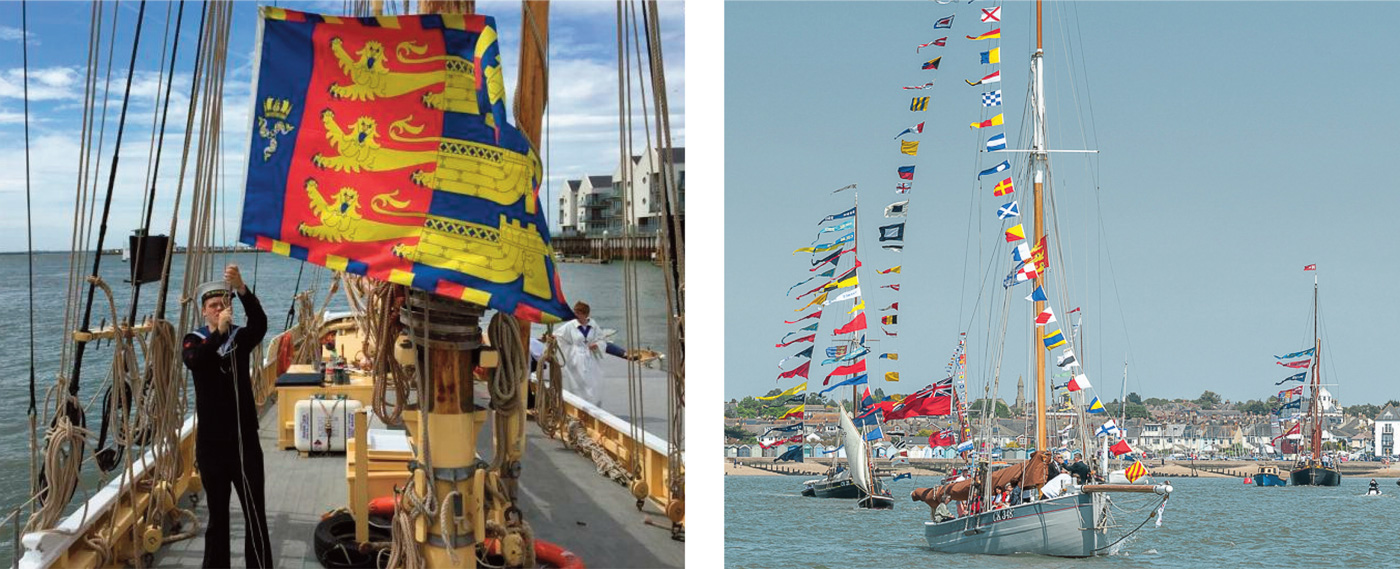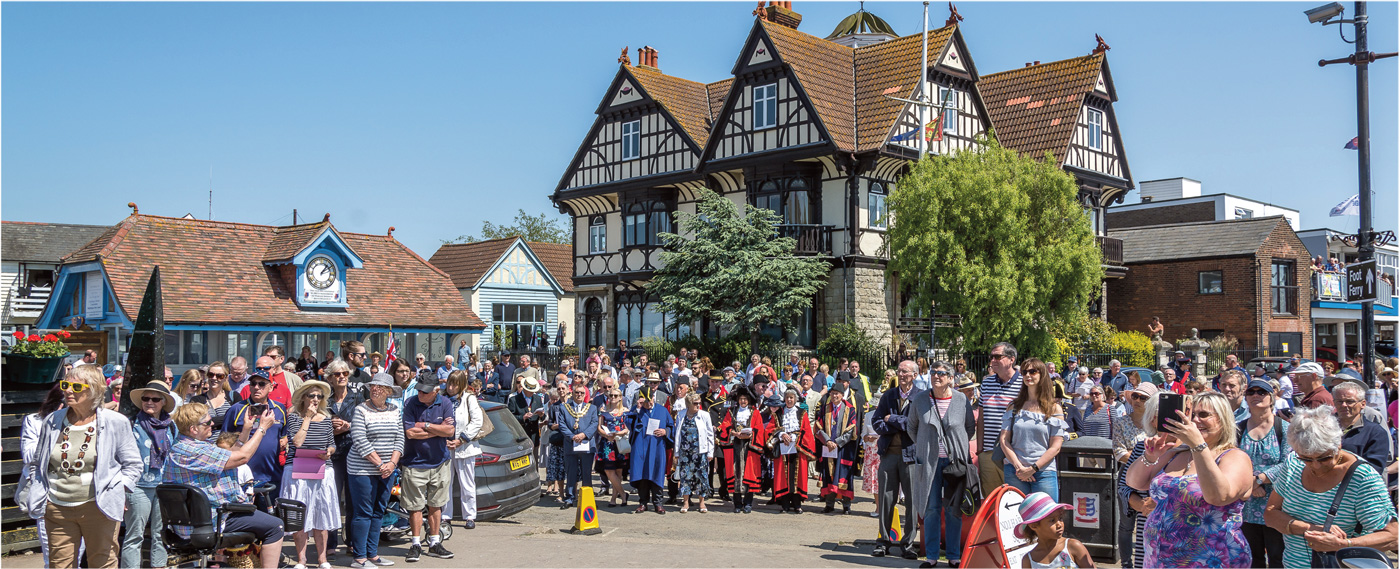 The Reclaiming of the Waters that follows is the procession of the Flotilla of Brightlingsea's historic Smacks, Sailing Barge & other vessels along Brightlingsea Creek.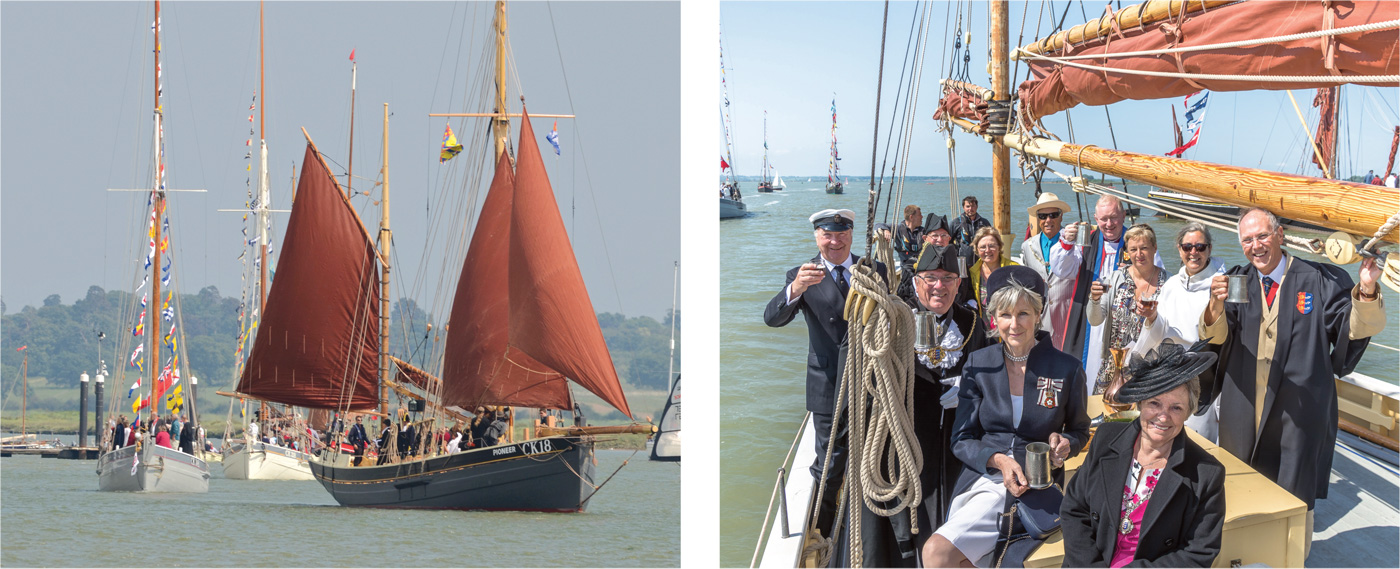 Smack and Barge Race
If you are ever inquisitive as to where the sport of sailing evolved from, and what it would be like to step back in time and walk the wooden decks of the days of sail, then Brightlingsea is the place to be in early September.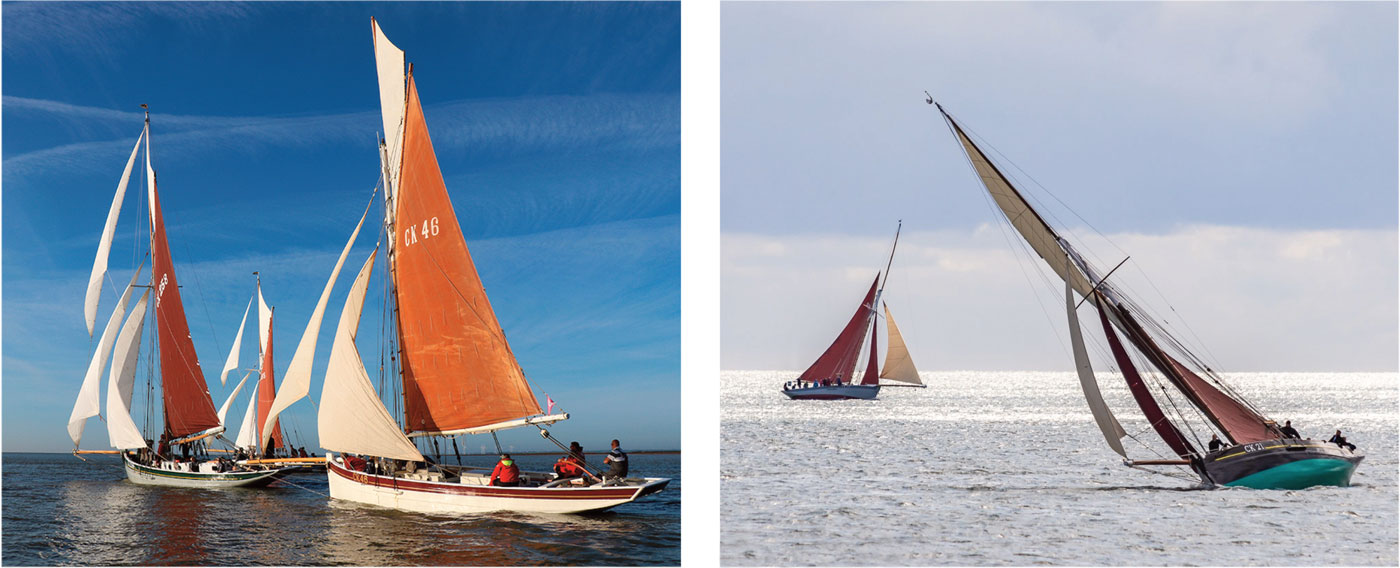 The Colne Smack and Barge Race followed by the West Mersea Dredging Match provide a taste of yesteryear with the spectacles of gaff rig racing and oyster fishing.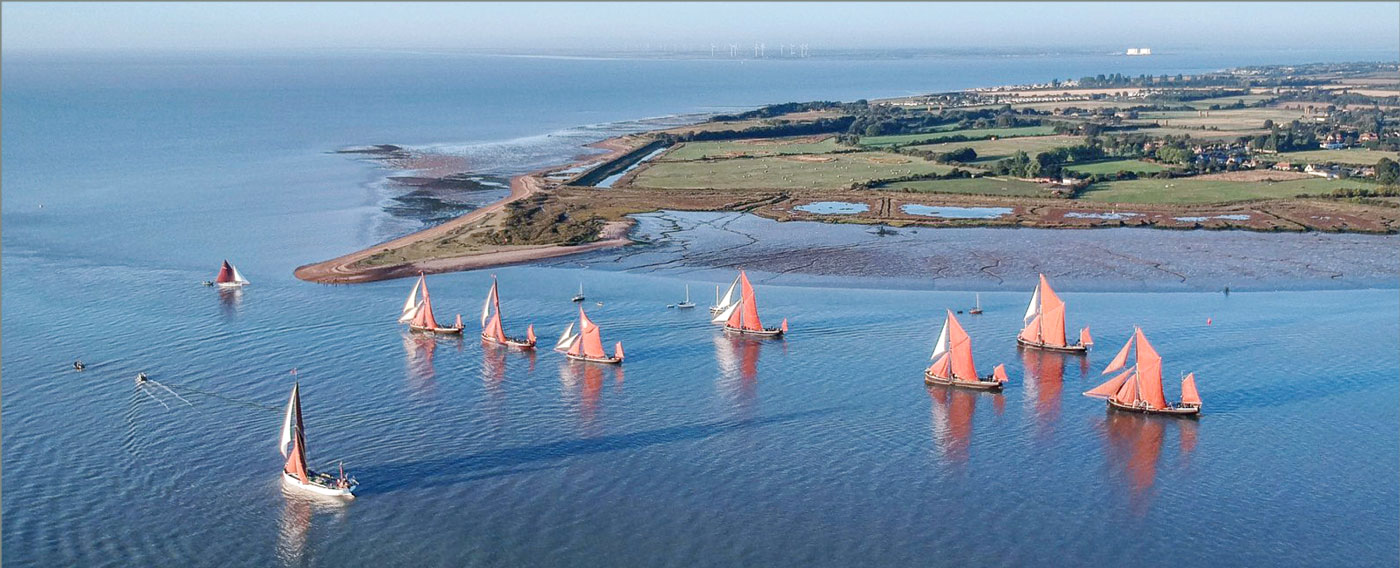 A smack was a traditional gaff cutter or ketch rigged fishing boat, and in the case of the Colne, these were mainly oyster fishing boats. Many are long gone now but those that have survived, often after painstaking restoration, can be seem regularly around the estuaries of Brightlingsea and Mersea etc. The annual smack and barge race is a chance to see many of these all together, in all their glory. A fantastic sight! The Morgan Marine boatyard always has two or three smacks in at any time undergoing repair or restoration.
Brightlingsea Music Festival
Brightlingsea Free (yes, totally free entry) Music Festival was established in in 2001. Its aim was to provide a platform for new and established bands from across the mainstream spectrum of popular music.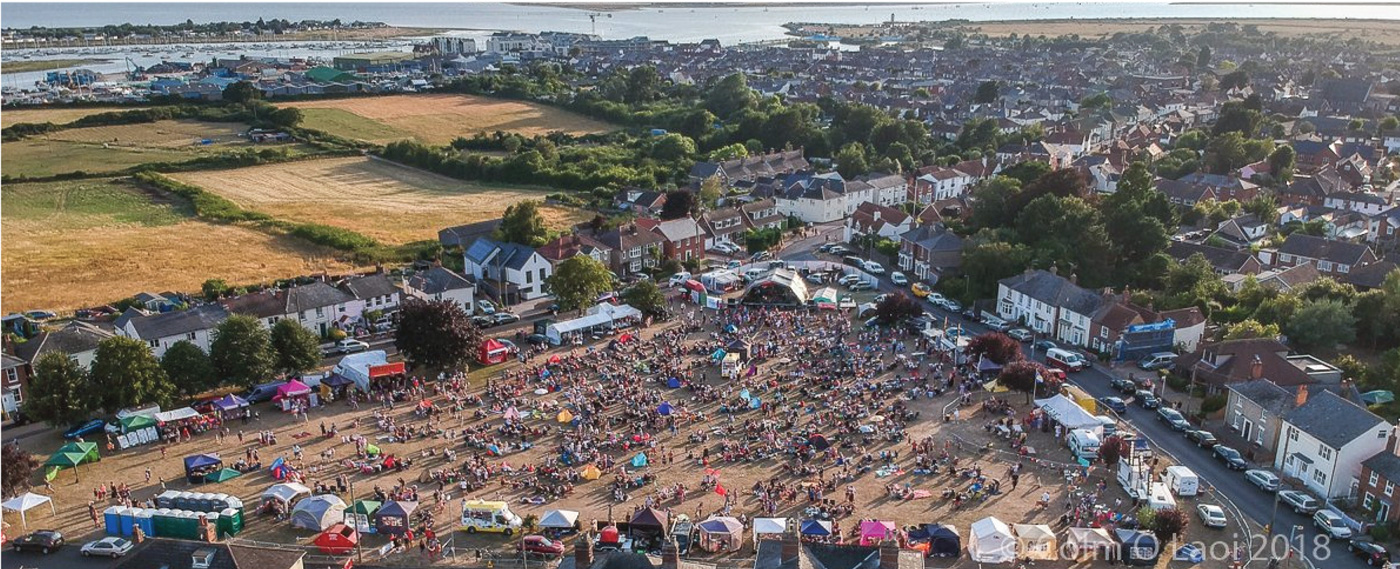 The festival thrives on its status as a free event and aims to attract an audience of all ages and showcases a mixture of new and established bands. It's developed from using a lorry trailer as a stage in its first 2 years, to providing a purpose built 15-meter orbital stage in the following 3 years.
The original audience of 2000 has increased steadily year on year. The festival itself is now held a stone's throw Brightlingsea town centre, at Hurst Green, making it truly part of Brightlingsea. It's a very laid back affair with many spectators turning up with picnic blankets and folding chairs spending the day relaxing and listening to a wide and varied range of talent.
Brightlingsea in Bloom
Or to give it its correct national title: RHS Britain in Bloom. This is the largest horticultural campaign in the United Kingdom, first held in 1963 and initiated by the British Tourist Board, It has been organised by the Royal Horticultural Society (RHS) since 2002.
The competition is entered by the communities of various towns, villages and cities with different categories existing for various sizes. Groups are assessed for their achievements in three core areas: Horticultural Excellence; Environmental Responsibility; and Community Participation.
Over 1,600 communities around the UK enter each year, participating in their local region's "in Bloom" campaign. From these regional competitions, roughly 80 communities are selected to enter the national Finals of RHS Britain in Bloom. It is a popular campaign, estimated to involve more than 200,000 volunteers in cleaning up and greening up their local area.
Since 2002, the awards have been based on the Royal Horticultural Society's medal standards of Gold, Silver Gilt, Silver and Bronze; Brightlingsea has always been a top runner in this national competition even seeing a gold award in 2006…
Places to stay
There are plenty of private rental properties in Brightlingsea available through Trip advisor or Airbnb: https://www.airbnb.co.uk
A stone's throw away you also have http://www.ye-olde-swan.com. If you prefer the larger style Premier Inns or similar you will have to look at Colchester or Weeley – both only 15 minutes away by car.
Brightlingsea foot ferry
The Brightlingsea/Point Clear/East Mersea Foot Ferry, provides ease of access between the three communities for both local people and visitors to the area. The Ferry provides not only a means of crossing the creek, but opens opportunities to explore the attractions and facilities the wider area has to offer such as Cudmore Grove Country Park. The custom-built ferry boat has a ramp which can be lowered to allow easy access for wheelchair users and cycles, as well as foot passengers using the service. Use of the ferry greatly reduces road miles – typically a round trip by road between Brightlingsea and Point Clear is 20 miles, but takes just 3 minutes on the ferry. The round trip by road to East Mersea is 40 miles, but only takes approximately 9 minutes by ferry.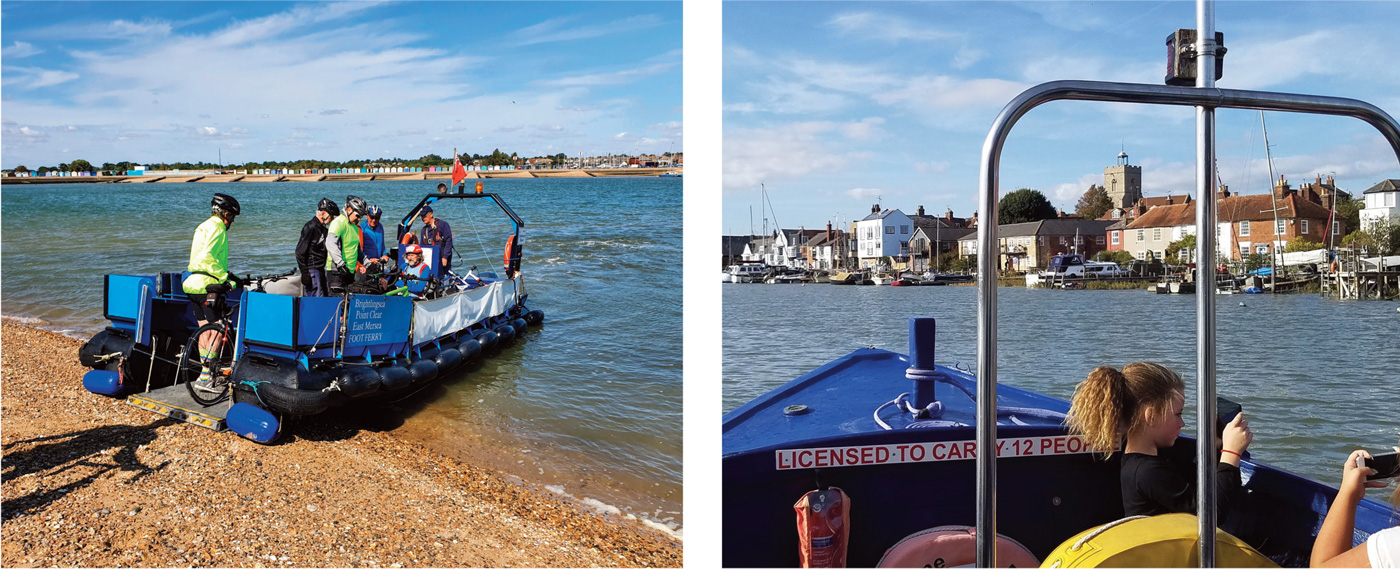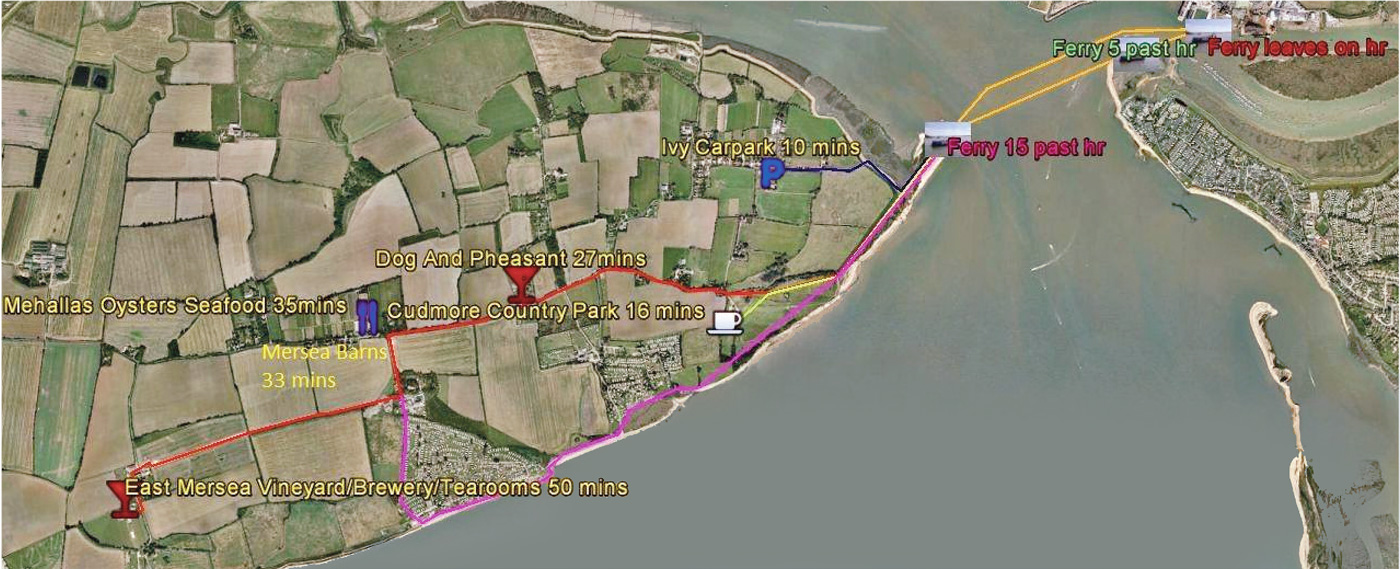 With new custom and charter trips, include a great Pub Lunch River Cruise to Wivenhoe, Harbour Tours and Nature Walk tours the foot ferry is a lot more than just a water taxi! Pop into the harbour office for further details or call the office on 01206 302200.
Tourist Attractions
A variety of acclaimed tourist attractions are also within easy reach of Brightlingsea:
Colchester Zoo
https://www.colchester-zoo.com
A very highly regarded (and large!) Zoo which takes you into a world full of magnificent animals. Plenty of opportunities to learn about the animals as you see them up close and attend many daily displays.
Beth Chatto Gardens
https://www.bethchatto.co.uk/gardens/about.htm
An overgrown wasteland transformed into an informal but beautiful garden and drawing admirers from far afield.
Clacton Pier
One for the kids! Clacton Pier offers plenty of value family fun in Essex. Always a popular seaside destination for the weekend Clacton Pier boasts a variety of indoor and outdoor fun and activities.
Constable Country
https://www.visitsuffolk.com/explore/constable-country.aspx
Just a short drive away is beautiful Constable Country. Located on the Suffolk and Essex border and centred around Dedham and the Dedham Vale this enchanting part of England was the birthplace of renowned artist John Constable and has become very popular with visitors.
Colchester Castle
http://www.colchestercastlepark.co.uk/colchester-castle/
Colchester's Keep is the biggest ever built in the United Kingdom and is the largest that remains in existence throughout Europe. William the Conqueror ordered the build of this castle somewhere between 1069 and 1076.The original height of the keep has always been a cause of debate. It has been theorised that at one time it had as many as four storeys, however due to factors such as the peaceful region of the Castle and the shortage in local stone it is widely believed that it in fact had only two or three. The museum now houses a fascinating museum containing a wealth of history.  There is plenty for visitors young and old including interactive exhibits.
Colchester Castle Park
http://www.colchestercastlepark.co.uk
Colchester Castle Park is situated to the north east of Colchester Town Centre and is divided into the Upper Park and Lower Park by the Roman Wall that crosses through it east to west. The park spans an area of 11 hectares and is listed Grade II in the English Register of Parks and Gardens of Special Historic Importance.
Abberton Reservoir Nature Reserve
https://www.essexwt.org.uk/nature-reserves/abberton
Up to 40,000 ducks, swans and geese visit each year. Excellent bird watching opportunities and fabulous views over the reservoir.
Mercury Theatre
https://www.mercurytheatre.co.uk
The exceptional quality of the theatre's home-grown work by the talented team of theatre-makers marks the Mercury out as one of the leading theatres in the country.
Tourist Trails
Those that simply wish to enjoy the area on foot or bicycle can enjoy some of the fine walks around Brightlingsea, including the five mile walk beside the River Colne and on to All Saints Church, of which the town is immensely proud as well as trails along the creek to Colchester and further afield. A great source for trail information (Nationwide) with detailed maps and directions is: https://www.alltrails.com/trail/england/essex/brightlingsea-coast-creeks-and-country
Brightlingsea Harbour
The main harbour here in Brightlingsea can be a very busy place.  Every year you can expect 100 larger ship movements, approximately 2200 visiting yachts, hundreds of power boaters, paddle boarders, canoeists, other watercraft users, dinghy sailors and racers. Brightlingsea Harbour Commissioners look after all of this with their dedicated team overseen by James Thomas, the Harbour Master and are always on hand ready to meet and direct vessels when needed on VHF 68. They can always find a tired sailor somewhere to tie up!  They operate water taxi services and there are showers and toilets nearby. Their website is a good source of information and well worth checking out:
https://www.brightlingseaharbour.org
Sailing Clubs
Colne Yacht Club
http://www.colneyachtclub.org.uk
Colne Yacht Club is one of the oldest and best established on the East Coast, with its origins stretching back to the 1870s. Nestling on the waterfront in Brightlingsea, Essex the Clubhouse overlooks the harbour and estuary. Enjoy the panoramic views from the Club's comfortable restaurant, bars and balcony.
Brightlingsea Sailing Club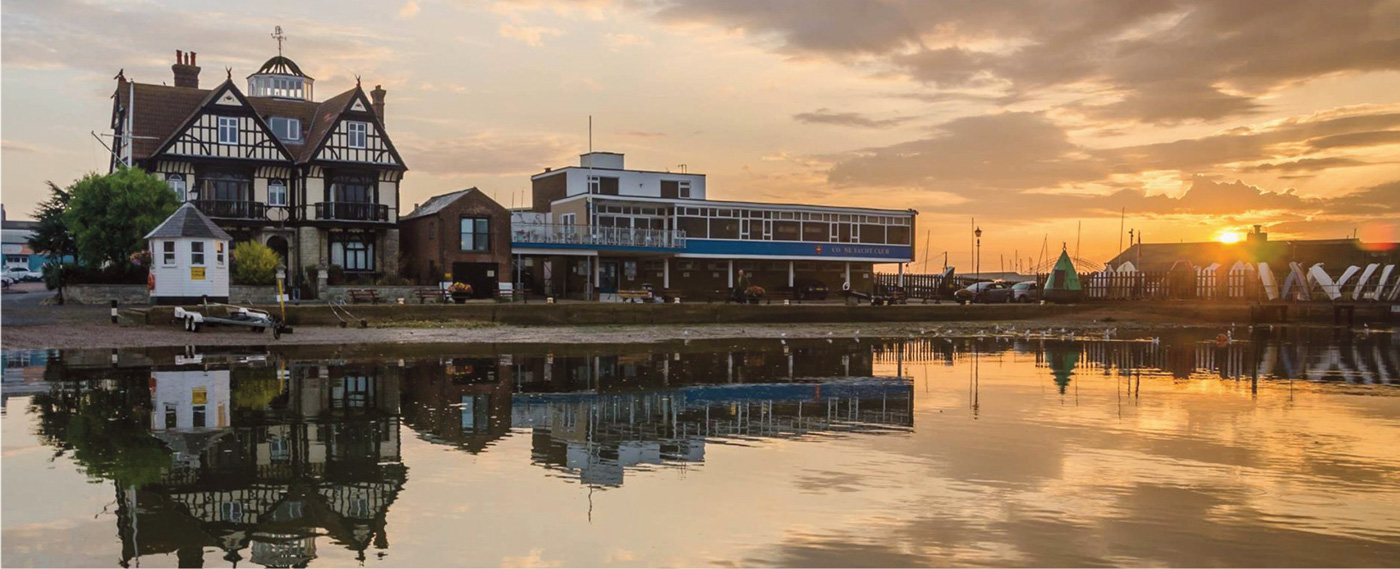 https://www.sailbrightlingsea.com
The club has an outstanding reputation for producing world class sailors. It also provides regular and very popular family fun, women on water and cruising activities for those who enjoy sailing purely for relaxation or fitness. The club is also an approved RYA Sailability centre, offering excellent facilities for disabled sailors.
University Sailing Club
Local Amenities
And lastly, don't forget. You can walk into town in under 10 minutes from Morgan Marines boatyard. In five minutes, you can be standing in the Yachtsman's Arms with a pint ordering some good pub grub!
With thanks to Colm O'Laoi for the use of his stunning colour photography in this piece. https://www.facebook.com/NautiPictures/