Sea Ray Sports Boats
Established for over 60 years, Sea Ray is an iconic sports boat brand with a strong reputation of being a producer of premium sports boats and sports cruisers.
The Sea Ray brand stands out from the crowd. Since 1959, it has held a place of honour among the industry's most coveted boats. Its success comes from its passion, and a total dedication to enhancing its customers' time on the water. The best, or nothing.
Classic yet modern, Sea Ray is an inspired design. When you see one, you know it. And when you see one, it is love at first sight! But Sea Ray is so much more than just style, it is a collection of designs that manifest themselves from a deep understanding of customer needs, together with a highly-tuned anticipation of their desires.

Sea Ray is obsessed with details because, like its customers, it is driven by perfection. The premium-brand company combines the mastery of craftsmanship with the precision of leading-edge technology.
And buying a Sea Ray is much, much more than buying a boat, it's embracing a lifestyle. From the very first moment you become part of the Sea Ray owners club, you'll experience everything life on the water should be.
Sea Ray understands how vital this time is to you. How a weekend afternoon on the water stretched out before you is the most rewarding part of your week. You work hard, and you deserve the best - and this ethos defines everything that Sea Ray does. From craftsmanship that you can feel in your hands. To innovations that inspire and delight. To service that keeps you out there, living the moment. Because whilst Sea Ray builds and engineers the finest boats in the world, what it is really doing is building and engineering the ability to make the most of the precious time you have.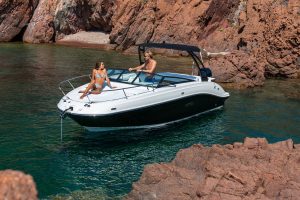 Sea Ray Sun Sport 230 OB
View Details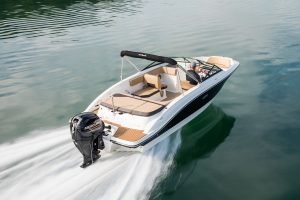 Sea Ray SPX 210 OB
View Details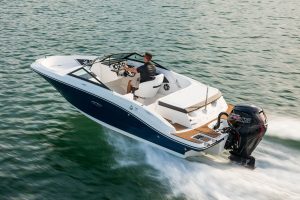 Sea Ray SPX 190 OB
View Details













Our
Customers Say:
Cheers for the work you guys did on my Dory.  The engine runs lovely now - thanks!
Many thanks again for all for your hard work in brokering the deal and delivering the boat. All greatly appreciated.  I hope restrictions ease quickly and you have a great summer.
Thanks for your continued efforts - the service and level of contact is not seen enough these days - you are the exception.
Thanks to all at Morgan Marine for your help over the last year or so. Your guidance, advice, service and support has been first class.
I'd just like to thank you for all your help over the last few years. You've always been very nice to deal with. I wish you the very best for the future.
Port of London Authority
Firstly, could I thank you for your support in supplying and arranging for the installation of the Honda outboard engines for our small survey craft Galloper. Could you also pass our thanks to Will and Sam please for their efforts yesterday in completing the installation in one visit, they were very professional in their approach and we are very happy with the installation.---Port of London Authority
Many thanks for your excellent service and good luck to the 'Jenny Wren'.
Without a doubt your finest feature is the helpful and kindly nature of your yard-men who deal with the boat lifting and re-launching. These chaps remain cheerful in the most awful weather and are the most efficient that I've come across in almost 30 years of boating. Their handling of the boat lift is a joy. Please pass on my appreciation to them.
I am so appreciative of all your efforts and hard work.What stars you are (and always have been).
This looks great. Looks like a very neat and professional job.
Thank you very much for your assistance in this matter All documents receivedA pleasure to find a company who cares!
Fabulous service. Great advice and always keen to help.
Forgot to mention how impressed I was with Matt [Morgan Marine's chief engineer]. I always try to pass on to the right person when I experience good service so this is just to say that he's a credit to you and only adds to the whole experience of buying my lovely Prestige 38s through Morgan Marine, which has been great. Thanks again to you and all your team for ensuring that this boat dream of ours lived up to expectations.
We are so delighted with the launch Saturday - with our boat performing so wonderfully on her first spin out. Thanks to the whole team for making this possible.
Appreciate all the help in getting back on the water - your engineer did a great job.