Posted on: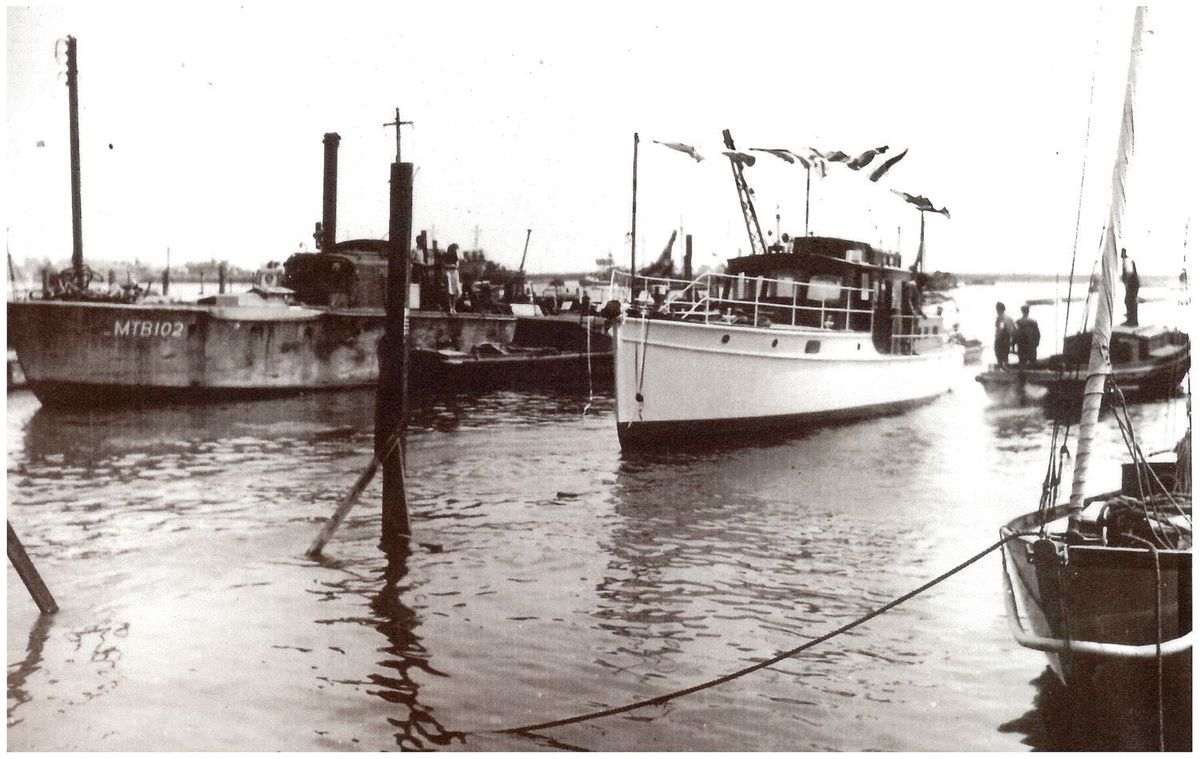 MTB (Motor Torpedo Boat) 102 is shown here in Brightlingsea in 1946 is being decommissioned after serving throughout the second world war. (The boat in the foreground is 'My Orthia', built by James & Stone of Brightlingsea in 1946).
MTB 102 was originally launched in 1937 making her the first MTB of the that era. She was crewed by two officers and eight men and during 1939 and 1940 she saw active service mainly in the English Channel, armed with 2 × 21 inch torpedo tubes
During 'Operation Dynamo', the evacuation of the British Force and Allies from Dunkirk, she crossed the channel eight times. When the Destroyer HMS Keith was disabled by a bomb from a Stuka dive bomber, Rear Admiral Wake-Walker transferred to MTB 102, using her as his flagship for the last two nights of the operation, directing the incoming and outgoing vessels at Dunkirk. (As she carried no Rear Admirals flag, one was created with an Admiralty dishcloth and some red paint!)
She had a top speed 43 Knots fully loaded, powered(originally) by three Isotta Fraschini 57 litre petrol engines, each producing a whopping 1100hp. No surprise this made her the fastest wartime British naval vessel in service.
After the war, like so many navy vessels, she fell into civilian hands and her condition slowly spiralling downhill, eventually being found by Norfolk Scout Group in 1973. She very poor condition, but had finally been saved.
102 is one of few surviving motor torpedo boats that served with the Coastal Forces of the Royal Navy in the Second World War and today, is looked after by a Trust which finds sponsorship and donations to look after her.
She is a regular at Brightlingsea Regatta in the Spring/Summer thrilling adults and small boys alike! You only have to look at her to know she is something special…
If you would like to know more please take a look at http://www.mtb102.com where you can also find events lists and newsletters.
MTB 102 today and at Brightlingsea Regatta: