Welcome to Morgan Marine's Summer 'Showboat' page!
On Saturday 16th June 2018, we are holding our 'Showboat' event for any new and existing customers as well as friends and family of staff. A fantastic day of boats, music, food, entertainment & fun. A completely free fun day for all invitees (and their immediate family) – with some great boats available for (pre-booked) demonstration rides on: Merry Fisher, Leader, NC, Cap Camarat from Jeanneau, plus Highfield RIBs, ProFish and Excel inflatables. Of course, there will be some great promotional offers as well!

There will be plenty of things to see and do:
Marine themed fashion show
Special guest speakers
New & used boats on display
Motor and sail boat RYA course presentation
Electronics presentations & product reviews
Boatyard new pontoon reviews
Rigger in attendance for advice
Our own marine engineers giving service tips & advice
Chandlery & clothing store open all day with offers
Daytime Music – old American, Irish, dance etc
Afternoon Barbeque, teas and all day bar
Children's entertainment, balloons, competitions etc
Free car parking
And later that evening:
Stand-up comedian
Music by the 95 All-Stars
The event finishes at 11pm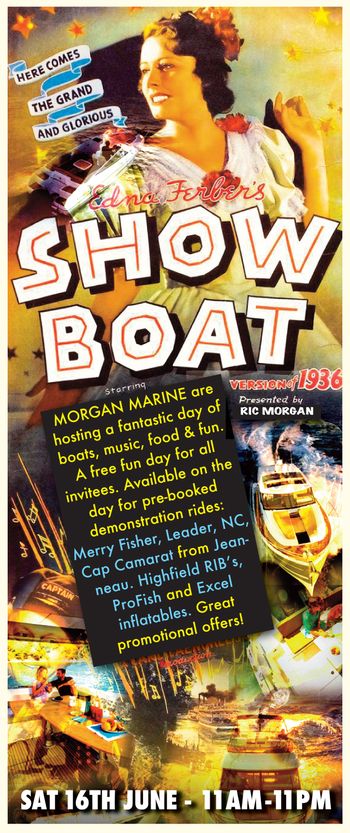 Get an invitation!
If you would like an invitation to this great event simply fill out the form below, also expressing if you would like a demonstration ride on one the available boats.
Please note – rides are only available from 12-3pm and subject to weather and availability.


Location
Morgan Marine
The Boatyard, Shipyard Estate
Brightlingsea
COLCHESTER
Essex
CO7 0AR
T: 01206 302003
Why not find somewhere local to stay and make a weekend of it?
Brightlingsea
An ancient maritime town, Brightlingsea is located at the mouth of the River Colne, it is a major yachting centre with the harbour and promenade bustling with activity. The town has a history of shipbuilding and seafaring. There are disused oyster pits near the Town Hard, where the Colne Smack Preservation Society can also be found. In 1347 five ships and 51 men were sent to the siege of Calais. 'William of Brightlingsea' was in Sir Francis Drake's fleet which vanquished the Spanish Armada.
Brightlingsea has the distinction of being the only Cinque Port outside Kent and Sussex having been a limb of Sandwich since 1360.

Colchester
Just 10 miles from Brightlingsea or a long walk along the riverbank of the Colne River!
Colchester is Britain's oldest recorded town, with a colourful history dating back over two thousand years. It's a history you can share by visiting the town's award-winning museums where you can see collections of international importance.
As the former capital of Roman Britain Colchester has many important and unique Roman sites and ruins, but a lengthy history means there is plenty to discover from other eras of English History including the Normans, Tudors and Victorians who all contributed to Colchester's story, as well as the English Civil War which made significant marks on the town.
Colchester Castle is the largest Norman Keep in Europe. Constructed on the foundations of the Temple of Claudius. The Castle Museum today reveals many fascinating layers of history to visitors.

Things to see and do in Brightlingsea
The 13th Century Jacobs Hall, in the town centre is timber-framed with an undulating tile roof and external staircase, it is reputedly the oldest building in England.
All Saints Church, which is sited on a hill about a mile inland from the town, was mainly built circa. 1250. Its impressive tower 97ft high is visible from 17 miles out to sea. Reverend Pertwee was so devoted to congregation that on stormy nights he would climb the steep tower to place a light on top to help guide the sailor's home. The Church contains some Roman brickwork and a poignant frieze of memorial wall tiles, initiated by Pertwee, commemorating residents whose lives were lost at sea.
The waters around Brightlingsea together with sandy beaches and colourful beach huts provide plenty of opportunities for a family day out. There are many lovely walks along the seawalls offering ramblers and birdwatchers the opportunity to enjoy the diverse flora and fauna that abound around this beautiful corner of the Essex Sunshine Coast.
There are also many pubs and restaurants in Brightlingsea, including the Rosebud Pub on Hurst Green and the Yachtsman's Arms, a stone's throw from the waterfront.
Places to stay
Plus many other holiday lets via a quick Google search